This year, Chris Lambert and I decided we would rank every single movie we watch. You can find my all-time rankings here, where I give some quick thoughts on my latest viewings. But I like going a bit deeper into new movies. So on this page, I'll be covering every single 2022 release I've seen with some lengthier reviews.
If you have any recommendations for me, please comment below. Enjoy!
Table of Contents
Latest Movies I've Watched
Aftersun (2022)
The battle with depression exists on two different levels. There is, of course, the actual person dealing with depression, who has no idea how to express their pain or navigate the cruel world that initiated the pain. And then there's the second party, the loved ones who can sense the disarray but cannot offer a remedy. Aftersun is a beautiful movie that perfectly captures the static tension at the heart of that relationship. Calum constantly puts on a face to disguise his suffering, while Sophie (like many children, such as myself, who have no idea how to cope with a parent's depression) anxiously skirts the perimeters of such murky waters. Sophie's only means of finding solace are to revisit memories of her final moments with her father, who, upon reflection, exhibits undeniable signs of depression and waywardness. This reveals the comforting-yet-distressing power of memory. Sophie's recollections, including the photographs and video footage from their vacation, provide insight into Calum's troubling state. Yet, the emotional turmoil experienced by Calum transcends the borders of a picture frame, the borders of Sophie's comprehension. After all, memories aren't real. They are mere representations of what we perceive and remember as "reality." Which means, despite the seeming catharsis provided by memories, Sophie can never find the answers she so desperately craves. While the film ends on a dour note, Aftersun ultimately becomes a powerful message about how to approach depression in both ourselves and others. Memories exist in the past, but so much goodness can be accomplished, so much help can be provided right here, right now.
Elvis (2022)
Finally: a cure for the tired biopic formula. Elvis has all of the same beats and rhythms of a film like Walk the Line or Ray…yet feels like it came from another planet. Baz Luhrmann is a true filmmaker dedicated to visually capturing the essence and aura of his characters. And in the case of Elvis, Luhrmann brings his cinematic eye to one of the most troubling tales in entertainment. The heights from which Elvis Presley fell are almost too scary to contemplate, especially when you consider what brought him to the ground. The charged race to the top, driven by the capitalistic nature that has come to consume every aspect of American culture, is so electrically charged that it constantly overpowers the unfortunate souls that dedicate themselves to such misery. Elvis constantly pushes for meaning and spirituality, only to be repeatedly consumed by the trivial calling cards of said race. In turn, the movie is less about what Elvis pursued and more about what he lost. Lost up in the controversy of Elvis was a man genuinely trying to make music for the world—and how hopeless that battle was all along. The film's frenetic energy services that despondent reality, and serves as an optimistic message about how to find meaning in a world that's constantly working against us.
2022 Movie Rankings
Movie Diary
Triangle of Sadness
Amongst the long line of great films about classism and capitalism, from Nightcrawler to Citizen Kane to The Exterminating Angel, I'm not sure how to feel about Triangle of Sadness. The first movie is benefitted by a richly deep character study; the second mirrors the soul-sucking yet undeniably attractive story of American greed; while the third provides Freudian insight into the existential emptiness of unfathomably banal social parameters. All three offer fascinating insight into classism and all its crippling and dehumanizing pitfalls. While Triangle of Sadness…well. I'm not sure what's there beyond "classism is stupid." Not that there necessarily needs to be more: a gripping, biting satire can own such a lean focus as it tears down the powers and overwhelming mentalities that be. But in the case of this movie, over the course of 147 minutes and several chapters, the message is strangely both saturated and slight. If there is more nuance to the commentary, it lies within Carl's story as he navigates the absurdity of economic structures. He is by far the most sympathetic and engaging character, given he's a mirror image of anyone who's felt either entranced or subjugated by capitalistic systems. Between Yaya and the yacht and the island, we witness Carl traverse the various facets of capitalism, culminating with a brilliantly relatable moment where the only seeming option amidst all this ridiculousness is to run run run away. And throughout Carl's journey, there are fleeting moments of genius, from the runway show to the sinking ship to that poor, poor donkey. Yet, within all those ideas lies the problem: the movie is all about structure, less about character. If I were invested in Carl—or anyone in this movie, for that matter—like I was invested in Lou in Nightcrawler or Charles in Citizen Kane or the vapid bourgeoisie troupe in The Exterminating Angel, then I could extract some nuance from the commentary. But as is, the movie does no more than simply observe what is. Luckily, great acting and truly hilarious moments make the journey pleasurable. Still…I'm left wanting more.
Watch Triangle of Sadness on:
The Banshees of Inisherin
For the podcast, I had to watch The Banshees of Inisherin for the second time, and I wasn't excited about it. The first time around, I found the pacing to be sedative, the symbolism to be overt, the revelations to be much less than profound. But this time around, I settled into the tempo a bit more, which led to less concentration on the Irish allegories (which, again, are deafeningly conveyed through dialogue—the least sexy thing a film can do) and more focus on the overwhelming despair that hangs over the inhabitants of Inisherin. This is both the film's greatest strength and its biggest missed opportunity. I cannot deny the heavy existential burden that rests on the shoulders of Pádraic and Colm, two characters that represent the Irish Free State and the Irish Republican Army during the Irish Civil War, that capture the debilitating division manifested by the country's sociopolitical dipole. Their estrangement that at first struck me as plodding became strikingly familiar and innate on second watch as I considered the seemingly ceaseless sociopolitical division that grips my own country, that has gripped just about any civilization in the history of man. This incessant weight wears on society with age, crippling us one by one as we maneuver the cruelties of life to find inner solace. But despite all those philosophical quandaries at the film's center, The Banshees of Inisherin's inescapably listless nature wins out. The utter lack of life and style falls on director Martin McDonagh's shoulders. While he allows his actors room to breathe and explore the existential dread, McDonagh's drowsy approach sometimes renders the revelations rather ordinary. Pauline Kael once wrote that films must "astonish us," they must unearth a deep-seated and often unwelcome recognition of life's cruelest realities, of the soul's irreparableness. As much as I like thinking about and discussing the ideology of The Banshees of Inisherin, the film's composite aesthetic—from the abundant static shots to the overtly pronounced symbolism to the unambiguously drawn characters—is less than moving.
Watch The Banshees of Inisherin on:
The Fabelmans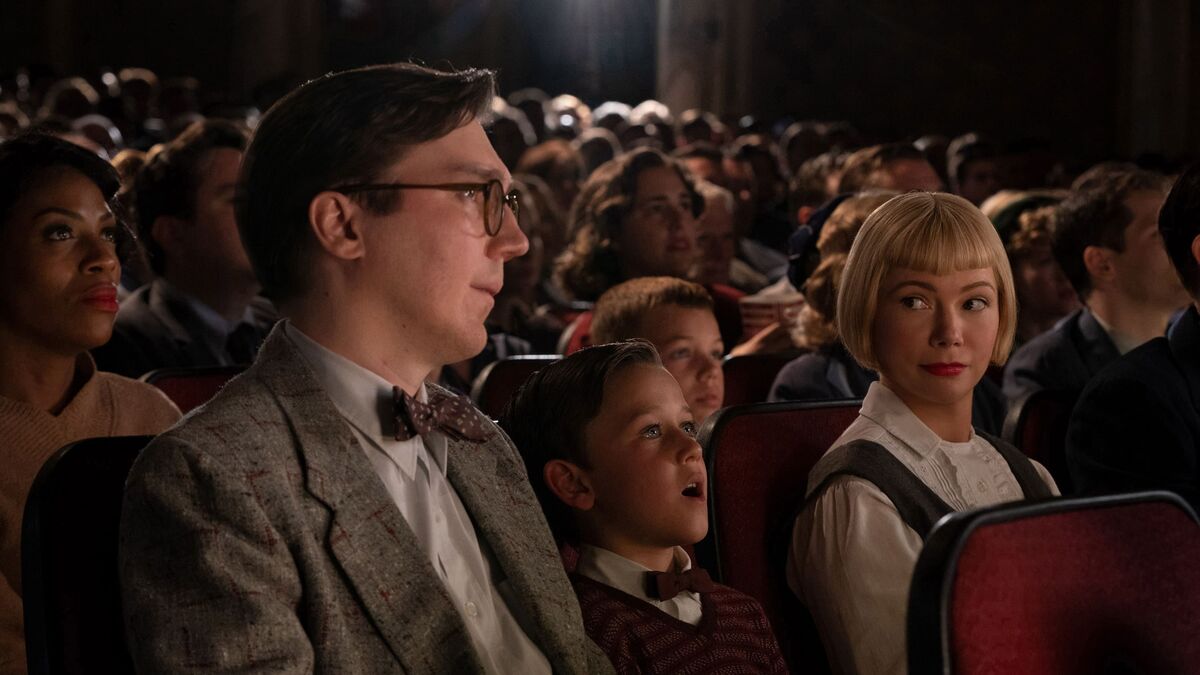 I love metafilms. But they can be a tad…obvious. The fact that you're watching "a movie within a movie" often becomes an overwhelming pessimistic force, rendering the deeper thematic implications moot. Even great movies like 8½, The Passion of Anna,and This is Not a Film own an inescapable sense of dread. That is not the case with The Fabelmans—a metafilm that tracks Steven Spielberg's growth as a man, as an artist with depth, with nuance, with overwhelming compassion. To an extent, all art is a means of self-evaluation for an artist. But when the narrative, when the aesthetic is so self-aware, it's often bogged down with grievances and dissatisfaction. There's certainly nothing wrong with that approach, but Spielberg unearths such benevolence, so many honest life lessons in his self-evaluation that the optimism completely vanquishes any semblance of cynicism. The camera is Sammy's tool for growth and self-discovery, for his deeper understanding of the world and all its distinctions. We aren't just watching a boy named Sammy grow up. We're watching Spielberg's evaluation of his own life. We're watching an active therapy session as Spielberg recalls key moments from his life and vulnerably excavates important lessons for all of us to contemplate. It's rare to encounter such an intimate meta experience that leaves you feeling hopeful about humanity's ability to overcome and realize its deepest passions.
Watch The Fabelmans on:
Everything Everywhere All at Once
I can't believe this is happening, but here we are: I now have an emotionally rich relationship with Everything Everywhere All at Once. Do I think it's a great film? Or even a good one? Maybe not. But I can't deny it: a movie I once found to be a mediocre mess has now become a crucial piece of my relationship with film. Admittedly—as much as I'd like to believe I view every movie in a vacuum, that any film can move me and change my very being—I may have had a chip on my shoulder on first watch. The most popular movie ever on Letterboxd was getting the kind of critical praise that usually screams foul, as the industry's most esteemed critics have proven time and time again they're incapable of deciphering a movie's true meaning, of exposing the deeper machinations of a film's aesthetic. I was convinced that the movie only worked because it made people feel good. Which isn't necessarily a bad thing…unless it's overly sentimental and thematically limp. I am now forced to consider that I may have brought those preconceived notions into my first viewing of Everything Everywhere All at Once.
Today is different. While I still have several problems with the movie (with the biggest being the movie's final fourth, which screams its ideology with such repetitive and monotonous force that it somehow renders the film's lawless and ambitious visuals lame and tiresome), I can't deny that the Daniels' shared vision is compassionately earned. In a world filled with cynical garbage that's truly void of thought or tension (say Tár or The Menu), I relish a movie like Everything Everywhere All at Once that, at the very least, owns a sympathetic view of humanity. Being a human being is freaking hard, and life's simplest obstacles have a quietly merciless way of debilitating us.
What I love about Everything Everywhere All at Once is how simple the aesthetic truly is. All the glitz and glamor distracted me from the emotional foundation. The film is nothing more than a therapy session for Evelyn; a slow-and-steady realization that something is fundamentally off, that she's in dire need of help. The weight of this struggle evaded me on the first watch. Instead of viewing the visuals as distractions detached from the humane core, they suddenly became intertwined in a spectacular way. The utter chaos of Evelyn's mental landscape is in disarray, and the Daniels' multiverse provides Evelyn a path to salvation.
Do I love Everything Everywhere All at Once? For stylistic biases: no, not really. I doubt I'll ever get to the same place as everybody else. But the fact that I now appreciate a movie beloved by the public? The fact that a movie that's likely to win Best Picture made me cry my butt off several times? The fact that I connected so deeply with a well-intentioned film's ideology? That experience now has a special place in my heart. While I am proud of my taste and confident in my critical voice…I don't particularly enjoy being at odds with the movie-loving community. Often, I feel alone. So if Everything Everywhere All at Once has done anything, it's made me feel included. And that's no small feat.
Watch Everything Everywhere All at Once on:
Women Talking
There's an amazing moment about 45 minutes into Women Talking when the female characters of the film—who are busy conversing about the most monumental decision of their precarious lives—tend to a young injured boy. The movie drifts into a montage of flashback, of reflection, of music, of prayer that beautifully solidifies the film's aesthetic into a clean, perfectly illustrated package: these women aren't just making a decision to save themselves, but to save their children, to save an entire generation—both boys and girls—from suffering the same treacherous fate. This conversation is bigger than themselves. And certainly bigger than the confines of a movie screen.
I felt such power and elation during that scene…that it made me realize the previous 45 minutes had failed to catapult to such heights. And only a handful of scenes moving forward were able to extract as much power.
Before I go any further—and now I'm detailing my thought process while watching the movie—I have to recognize that I'm a man. The message of Women Talking is very important for me to understand, but the movie isn't necessarily for me. My thoughts and feelings about the desecration of women in society are, at the end of the day, of no real importance—whether my thoughts be kind or malevolent. Either way, all I can do is listen, is be empathetic.
So for this diary entry, all I feel I can really do is navigate exactly how this movie could have become a more profound statement for men who are trying their best to be empathetic—perhaps the only avenue for which I can provide genuine insight. And in my mind, Women Talking failed to accentuate the true horror of the situation at hand. There are as many moments that convey blackened gravitas as moments that stumble around the point; there are as many moments that delicately extract incredible energy and nuance as moments that hastily hamfist a metaphor into the proceedings. Even the scene with the little boy—a quiet, harmonious, gentle scene—was able to heighten the absolute terror of these women's lives through its sheer proficiency. It simply felt like there weren't enough moments with that sort of disciplined poise.
Perhaps my insight is helpful. Or perhaps I'm simply another man trying to comment on a movie made by women for women. Either way, it feels necessary to push these thoughts out there. Because even if someone thinks I'm in the wrong? Then that can become part of the discourse. Movies have enormous power when speaking to the universal truths and complications of life. And through this journey where we talk about the movies that talk about the important facts of life, we can find the right way to artfully have this incredibly important and necessary conversation.
Watch Women Talking on:
TÁR
At the end of Tár, I'm left to wonder…is there any joy to be found in a movie that's so miserable? Any clarity or beauty? How do I interact with a story whose main concern is exposing the pure and utterly indefensible evil of a power-hungry elitist? I just can't love Tár like everybody else. I tried—I tried so freaking hard. But I just can't get around a movie that dresses its insight in such cynical arthouse indulgence. Lydia Tár doesn't reveal subtleties about the world to me. She doesn't expose the complicated depths of the fragile human mind. She doesn't even uncover a path that leads towards a better, more compassionate society. Instead, she just shows how ugly people can be, how stubborn it is to deal with entitled assholes, how all of these people should just go live on an island somewhere together. I can't deny that the acting and cinematography will drive people wild. But when a film's aesthetics are steeped in such ugliness, I simply can't find a connection. Instead, it becomes two-and-a-half hours of torture that's begging me to be impressed.
Watch TÁR on:
The Batman
Ah…The Batman. I'm finally addressing everybody's biggest question when they look at my rankings, which is: how could you possibly rank Morbius over The Batman? I don't want to spend any time discussing Morbius (if you'd like to read my thoughts on that crazy movie, just look below). But I will happily discuss my love-hate relationship with everybody's favorite superhero movie of 2022.
To be clear: I don't think The Batman is a bad movie. The first time I watched it, the nicest descriptor I would have used was "mediocre." But upon a second watch, the things I liked started to more heavily outweigh the things I didn't like. I really connect with the theme of renewal; of channeling your hopeful, optimistic side in a world filled with cynicism and pettiness. I love how Bruce is challenged in a sort of coming-of-age way that reflects the Hero's Journey we've see in movies like Star Wars and The Matrix. All the bits and pieces are in place for The Batman to deliver emotional purification, to reflect society back to me in a way that forces me to reevaluate humanity and gain new perspective.
But the movie's biggest problem is its lack of style. I think Matt Reeves is a promising filmmaker, and I actually believe he did a great job with the Planet of the Apes movies. And while that franchise had a great sense of scope and scale that he brought to his latest film, the editing, the sequencing, the choreography of The Batman…it all feels a bit too static and inefficient to properly accelerate the movie forward.
The writing is only technically sound, as it properly lays out Bruce's journey and the monumental task at hand with fixing Gotham. But the clear lack of technical know-how (the fight scenes are stodgily edited, often opting for the eye-rolling single take that few filmmakers can pull off properly), the aggressively loquacious shot-reverse-shots (every single back-and-forth conversation in this movie could be cut down by 75% without losing the emotional integrity or important plot context), the utter lack of color and vibrance (which filmmakers like Zack Snyder or Joel Schumacher or Tim Burton capture without killing the grim mood of their Batman films)—all that combined makes The Batman a somewhat stuffy experience.
The movie certainly isn't incompetent, and even has transcendent moments that give the movie life (like when the Batmobile bursts from the flames of a huge car crash). But the emotional journey must be aided by the film's technical prowess—and The Batman simply doesn't have it. In turn, that lack of presence hurts the acting and the emotional power of the story. Here's to hoping they can figure it out in the sequel.
Watch The Batman on:
Facing Nolan
I enjoy watching sports. But I really love baseball. Baseball is a different beast to me, because—and please forgive how pretentious this will sound—I'm absolutely taken by the aesthetic of the game. More than any other sport, baseball requires me to be present, to be centered, to be aware of all the nuances that make the game competitive. Baseball is a game of patience and endurance, of poise and spirit. The ability to transcend in the game of baseball absolutely bewilders me, because becoming an elite player for several years on end—aka becoming a member of the Baseball Hall of Fame—means you have channeled a spirit that requires the utmost concentration and presence. And Nolan Ryan, who pitched well into his 40s, may represent the pinnacle of that success.
And…that's exactly why Facing Nolan is a letdown. The movie is undeniably interesting because it purely focuses on Nolan's rise of power, his countless accomplishments, his unshakable focus. But the presentation leaves much to be desired. In typical made-for-TV-sports-documentary fashion, Facing Nolan waivers between eye-rolling blubbery praise and boring Wikipedia-esque biography. The best parts of the movie are undoubtedly the insight we get into Nolan's family, as they shed light on the hard-working Texan attitude that allowed Nolan to find unprecedented success. But past that, it's a bunch of Nolan's buddies talking about how awesome he is, and a narrator who tonally feels like he's detailing the life of Abraham Lincoln. I appreciate any passion for the game of baseball. But Facing Nolan descends into a sort of exuberance that would embarrass the rather humble Nolan Ryan, I'm sure.
Watch Facing Nolan on:
Terrifier 2
I was left absolutely stunned at the end of this movie. I assumed I would like it for the grisly death scenes alone, and was hopeful that it could elevate into more esteemed territory—but my god. Terrifier 2 is an unequivocal triumph in horror. The genre is wonderful in its ability to defamiliarize the darkest truths of life, to engage the most sinister demons that plague our very core. Terrifier 2 presents a familiar feeling: one of inescapable anguish. The movie isn't just an exploration of grief, but also of trauma, of regret, of dissatisfaction with your reality. Sienna and Jonathan aren't just mourning the loss of their father—they're consumed by it. They're in disarray over their confusion, of what drove their father to take his own life. They desperately want to understand something outside of their control yet so close to their being.
That confusion then manifests in Art the Clown—a demon that haunted their father; a demon that is now tearing Sienna's life apart as she searches for answers and meaning; a demon that, true to his name, exemplifies the very essence of art, that serves as a representation of inner struggle and turmoil, that compels everybody watching the movie to confront the hellish monster that roams the shadows of our everyday. I've never experienced a movie that so brutishly forced me to sit there and take it, to keep my eyes wide open, to witness how savage life can be. Actually, not just to witness—to contemplate. To navigate. To conquer. To appreciate. To embrace the indisputable bogeyman of life.
Watch Terrifier 2 on:
The Menu
Check out our Colossal Movie Guide for The Menu
I feel cheated. Fooled. Humiliated. I was far too kind and forgiving to The Menu—a movie that fooled me into believing there was an ounce of thought or intellect at hand for nearly two hours. I was admittedly taken by the film's utter fervor, the quickly-paced-yet-slyly-deceiving plot. I was convinced that The Menu would, at some point, unveil a game-changing reveal; something that would glue everything together and astound me. There were so many intriguing characters intertwined by so many intriguing themes—from class warfare to broken relationships to the love of cooking—that at no moment did I suspect the movie would fail me. Hell, this continued after I had finished the movie, as I continuously racked my brain trying to solve the puzzle.
Again: I'm embarrassed. Because after all the strutting and posturing, The Menu eventually revealed itself to be nothing but a lame exercise in surrealism. While watching the movie, I was repeatedly reminded of The Exterminating Angel—a film where dinner guests find themselves inexplicably unable to leave the room. I was sure that Mark Mylod's film would parallel Luis Buñuel's remarkable and turbulent social commentary on war and classism. Instead, The Menu nothing but a big joke—literally. There's no emotional payoff, no deeper commentary beyond "rich people suck," no consequences for anything or anyone whatsoever. It turns out that you're just supposed to laugh at how ridiculous this situation is and how hilarious it is to watch these rich pricks stew in the madness. Apparently this film's "power" is the ability to laugh at pretension. How ironic, as I'm the one laughin the end. Except I don't find the entire meaningless experience to be particularly funny—I'm just laughing at myself for giving this turd so many chances.
Watch The Menu on:
Fire of Love
Before I go any further—because this entire review will give the impression that I don't like Fire of Love—I want to say this is a good documentary. Katia and Maurice Krafft are entertaining and interesting enough for an entire docuseries, let alone a single documentary. Their ambition, their passion, their rebelliousness is intoxicating and ever-watchable. The footage they captured of active volcanoes should be cherished by the scientific community—hell, by the entire world. Their findings have certainly pushed society forward, enhanced all the more by their fiery (no pun intended) devotion to enriching man's connection with nature.
But…I really can't stand the modern documentary's eye-rolling desire to glorify and idolize its subjects. And I'm not necessarily referring to the content—there are plenty of moments in Fire of Love where Katia and Maurice's faults are revealed. I'm referring to the energy of the film: the stupefied tenor, the bloated reverence in Miranda July's awestruck delivery. The entire film's aesthetic feels a disservice to two individuals with such pure and positive intentions. Sometimes it feels less like we're learning about these two volcano hunters and more like we're listening to someone talk about how awesome they were. What a strange approach. The filmmakers were lucky that Katia and Maurice are awesome enough to overpower such pretentiousness.
Watch Fire of Love on:
Avatar: The Way of Water
Check out our Colossal Movie Guide for Avatar: The Way of Water
I consider myself a fan of James Cameron…but not exactly an avid fan. I respect his vision and aesthetic, and I cherish his gumption to push the technical aspects of filmmaking forward. But I often find myself disenchanted by his by-the-number characters, who seemingly tell you everything you need to know about them within seconds of meeting them. The "breadth" and "wonder" of a Cameron flick is often lost on me because I can't even sidle my way next to the people I'm supposed to care about.
That is not the case with Avatar: The Way of Water. To be honest, I don't remember the first film very much—other than I didn't care for it. But wow. I may need to go back and rewatch. Because I was absolutely enamored with this world and the people who occupy it. I'm so thankful Chris made me go see this in IMAX 3D, because it was truly unlike anything I've ever seen before. I was quite literally immersed in this world—it felt like I was navigating these troubled waters right alongside Jake and his entire family, fully engrossed by every bubble of joy and moment of trepidation. To boot, the film serves as a compassionate commentary on environmentalism and inclusiveness (in a moment where the real world could really use it). Just about every turn this movie takes is genuinely thoughtful and breathtakingly photographed. Now I can't wait for the rest of the Avatar movies.
Watch Avatar: The Way of Water on:
Decision to Leave
Sadly, we've reached the point where I'm blown away by the slightest sign of competency from a filmmaker. While Park Chan-wook makes several decisions with Decision to Leave that typically irritate me—from the overtly philosophical dialogue to the barrage of symbolic shots—he does it with such grace and conviction that I'm completely enraptured by the experience. Park Chan-wook's entire aesthetic seemingly relies on chaos and disorder, yet never once do I feel lost in deciphering the message. In fact, Decision to Leave is almost too direct in its examination of the existential self, of the disbandment the human soul experiences as we deviate between who we are and who we could become. Yet that directness is what makes the entire message hit home, is what gives his characters urgency and identity. Park Chan-wook's optimism is often mistaken for defeatedness: Decision to Leave appears to have a dire message, but is really a call to find peace with yourself. And if he can make it an entertaining watch to boot? Then he's a breath of fresh air.
Watch Decision to Leave on:
Ticket to Paradise
I'm so sick of the bleakness, of the gruesome narratives, of the grim outlook that so many filmmakers seem stuck in. While I can appreciate a gloomy movie (like my #1 movie of the year, Vortex…), I definitely don't appreciate the sullen aesthetic that pervades so many vapid modern movies that ostensibly aim for depth and clarity—yet constantly fumble the ball.
Which is why I'm absolutely in love with Ticket to Paradise. Armed with the screwball comedy formula perfected by classics like Ball of Fire, Cluny Brown, and Bringing Up Baby, this modern take on a long-lost genre was the most refreshing 104 minutes I spent watching a movie in 2022. Unlike so many of the dreary movies that pervade the zeitgeist these days (The Northman, The Batman, Barbarian), Ticket to Paradise explores its daunting topics with humor, with modesty, with wholesomeness that warms your heart without sacrificing the ability to make you think. The characters are move alive and realized than just about anything else I've watched over the past several years. And its entertaining as hell, as the smallest of characters are constantly equipped with great one-liners and larger-than-life personalities. From beginning to end, Ticket to Paradise was giving me everything I want from modern movies but never receive. Kudos.
Watch Ticket to Paradise on:
Falling for Christmas
During the first 15 minutes of this movie, I was weary. Both of the leads—Lindsay Lohan and Chord Overstreet—seemed like duds. Lohan seemed chaotic and awkward, while Overstreet bland and tiresome. But once those two came together, a different energy entered the film. Their chemistry, their tension was able to elevate Falling for Christmas above the Hallmark formula and profoundly explore some weighty topics. While the movie certainly doesn't reach the heights of classic screwball comedies, Falling for Christmas is surprising in its ability to infuse its obvious humor with heart and warmth that makes its message feel frighteningly on-point. Losing a loved one is one of my deepest fears, and I always appreciate a film that can thoughtfully navigate those troubling waters with the tricky combination of compassion and wit. Mark this movie as one of my most surprising watches of 2022.
Watch Falling for Christmas on:
Christmas with the Campbells
One of my absolute favorite movies is They Came Together. Largely because it's the most watchable ever—the gags, the banter, the cast are all top-notch. But from a personal standpoint, I'm moved by any movie that commits to its style without hesitation; a movie that's so dedicated to a specific identity and a particular rhythm that it becomes a living force. By doing so with They Came Together, director David Wain made a movie that's not only hilarious, but touching and thoughtful despite all the irony.
The same cannot be said about Christmas with the Campbells. When I started the film, I had no idea it was meant to be a spoof of Hallmark movies—I thought it was just another lame Christmas movie I could mindlessly watch for the holidays (trust me: when you have a newborn baby, this becomes very important). But when I realized we were heading down that road, I got very excited. I'm a fan of these kinds of movies, like Airplane and Not Another Teen Movie, so I'm very eager to discover the next They Came Together. But before long, it became painfully obvious that Christmas with the Campbells was not up to snuff.
Ultimately, however, watching Christmas with the Campbells was a positive experience because it helped me define what makes a great spoof: a commitment to the craft of whatever you're spoofing. In order to properly make fun of a genre…you sorta have to be a fan of that genre. You can't just mock and ridicule with hostility—which just comes across vindictive. You have to embrace whatever it is you're spoofing and make it part of your movie's identity. You have to love the character tropes, the overused antics, the tired message that inevitably lies at the heart of every genre movie that's become the butt of your giant joke.
Maybe Christmas with the Campbells works for somebody who truly hates Hallmark movies. But I myself am the kind of person who enjoys any kind of film that owns its identity. I love Lawrence of Arabia, I love Funeral Parade of Roses, I love the Fast and Furious movies, I love Dumb and Dumber…and dammit, I love Holiday in Handcuffs starring Melissa Joan Hart and Mario Lopez. Yeah, that movie is freaking bonkers and completely implausible—but it's also a movie completely committed to its craft. It never feels ashamed or pressured to be anything other than exactly what it is: a farcical Hallmark movie with a cheesy message about Christmas or whatever. Because the film is committed, the characters and story deliver honest emotion and heart. And on top of it all, the movie is entertaining as hell because it's so absolutely crazy that you can't believe it exists in our section of the multiverse.
I can't use any of the same praising rhetoric for Christmas with the Campbells. The movie is full of funny, talented people trapped in an airless, mean-spirited void. Justin Long is hilarious…for the first few minutes. Then his too-good-to-be-true-good-guy quips start to sound repetitive and malicious. Brittany Snow is acting her butt off in a weightless movie, while legends like Julia Duffy and George Wendt eye-rollingly beat the "horny parents" joke into the ground. Never once do you feel an ounce of sympathy or devotion to any of these characters because the filmmakers so clearly don't either. They simply want you to laugh at these characters and then sign a petition to get Hallmark movies banned because they suck and we should like real movies instead.
I have to ask…do people like this kind of film? I enjoy movies—all different kinds of movies—too much to be part of it. A real spoof celebrates genres for what they've become, what they represent to and say about the culture. At the very least, they challenge your emotions—something I thought was a basic requirement of all movies. Even the dumbs ones. But apparently some people think otherwise.
Watch Christmas with the Campbells on:
Qala
Check out our Colossal Movie Guide for Qala
Qala was a bizarre experience for me. This has happened to me a handful of times: where I think a movie is about one thing…and then something is revealed and I have to reconsider everything I've watched. And at the end Qala (spoilers ahead) when it is revealed that Qala believes she is actually talking to the ghost of Jagan in front of a bunch of reporters…I was flabbergasted.
Up until that point, I felt Qala to be a misguided, well-intentioned movie about the dangers of celebrity and the perilous effect parents can have on their children. Qala is dangerously committed to pleasing her unpleasable mother—a very relevant storyline, especially given Qala's cultural pressures. It brings an interesting tension to the film, because as a celebrity Qala has the ability to propel women in society, to become a voice for change and equality. Yet…she can't get past her mother; she can't stop pigeonholing herself with these unrealistic expectations, these unnecessary hurdles passed down from her restrictive community.
But time and time again, I felt the movie navigated those troubling waters antiseptically. Qala would turn into a trembling puppy anytime her mother showed disapproval; her face would fall whenever somebody said she wasn't destined for greatness; and the kicker: Jagan's ghost would show up to taunt her, to chastise her, to become part of her physical reality and play games with her—it felt like such an obvious, embarrassingly bush-league choice that didn't belong in a motion picture that produced such lovely images.
And then the twist happened (or at least what I found to be a twist, given my impression of what the film was doing). Jagan's presence wasn't just some cheap filmic mechanism used by director Anvita Dutt Guptan—this was real. Qala truly thought she was seeing the ghost of Jagan. And my jaw dropped.
Such a bold choice forced me to reconsider the entire film. When Qala was acting like a trembling puppy…it was because she was so traumatized by her mother's pressure. The rules of her culture were so debilitating that her mind became futile, her presence turned comatose, her very identity was lost. With that choice, the movie gained power in a way I didn't expect. So once the credits started rolling, I had to sit and reflect. Was Qala successful in its message about mental wellness?
Ultimately…I'm not sure. Sorta yes, but mostly no. I appreciate the boldness, and I think it lends some serious energy to the movie's message about mental health. But that message is also hamfisted at the very end of the movie. If the troubling mental state of young people in a conservative culture was the true driving force of the film, I wouldn't have felt so blindsided by such an insane revelation. But as is, the only indications of such a theme are visually boring and one-note: Qala constantly looks distressed because her mother is disappointed…and that's about it. The entirety of the movie clearly isn't as adventurous as its twist, so I'm left with a feeling of regret that Qala didn't achieve what it was fully capable of.
Watch Qala on:
Bullet Train
Check out our Colossal Movie Guide for Bullet Train
I was so excited when I sat down to watch Bullet Train. My wife and I are huge fans of everyone in this movie, and we fully expected Brad Pitt to take us on a wild journey at high-octane speeds. I was ready for a fun night in front of the television, fully ready to defend whatever inefficiencies the film had in store.
And then…the movie started. The opening scene was a little dull—the energy was not there between Pitt and whoever was on the other end of that phone (I now know it was Sandra Bullock, which checks out). "But I love Pitt, so let's keep going!" Then the dialogue between Aaron Taylor-Johnson and Brian Tyree Henry felt awkward. "But hey, these dudes can polish any turd." My wife and I tried—we really tried. But before long, the fast-cutting between Joey King (who performs a quite horrific British accent), Bad Bunny (whose character is supposed to be intimidating but feels like an imbecile), and Andrew Koji (whose character never carries the emotional weight it should) starts to feel overly dogged and sluggish. The kicker was Michael Shannon, who has never been bad in a movie, yet in this lacked any presence or intimidation. The movie was supposed to be "fun" and "cheeky," yet it always felt one step behind the dynamic energy it purports.
At the end of the movie, we were defeated, exasperated, annoyed. All the pieces were in place for a great film with interesting ideas, yet the action constantly felt clumsy, the storytelling scattershot, the character dynamics lifeless, the emotional stakes empty. What the hell happened?
Then…I saw that David Leitch directed the movie. And everything made sense.
Perhaps the least enjoyable time I've ever had at a movie theater was watching the impossibly sullen Atomic Blonde, which flaunted some of the least proficient fight scenes I've ever witnessed as the next wave of action; Hobbs and Shaw is the only Fast & Furious entry that can't make the characters or choreography feel as exciting as its storytelling stakes; and while I haven't watched Deadpool, the trailer made it look like it could very well be my least favorite movie ever.
That's an incredible and unfortunate streak with a very simple answer. Leitch only co-directed John Wick, which explains why the film has some semblance of life to propel Keanu Reeves' incredibly watchable presence forward. But repeatedly, Leitch has taken some of the most exciting and attractive players in Hollywood—from Charlize Theron to Dwayne Johnson to Jason Statham to Brad Pitt—and reduced them to lifeless pawns in a rather amateurish mess.
Leitch has a stunt background, and very clearly has a stunt mentality when approaching his films. He doesn't provide enough visual foundation—be it eye-grabbing stylistic flair or emotionally driven fight scenes or, at the very least, capable editing choices—for the promising aspects of his movies to find their footing. Because of such incompetence, any moment that's supposed to have heart feels empty, and all the themes and ideas embarrassingly fall flat. Everything the movie attempts to do has been done much better dozens of times in more experienced hands. From the very opening seconds, the movie is so obviously a pure misfire—and any attempt to believe otherwise is nothing but wishful thinking.
Watch Bullet Train on:
Vortex
I had a sneaking suspicion, but Vortex confirmed it: Gaspar Noé is the most exciting filmmaker working right now. Even when his films aren't perfect, they're provocative and arresting enough to challenge your senses in ways that few modern films do. For instance, Climax and Love aren't my favorite Noé outings…yet I would happily watch those movies again over so much of what I see these days. There's simply something there; an ineffable, transcendent factor that feels vividly melodramatic and hauntingly recognizable at the same time.
So what is it? What makes Noé so special? Vortex makes it clear rather quickly. As Lui and Elle lie in bed, Elle wakes up and reaches out to touch Lui—but can't quite reach him. Then a thick black bar slowly splits the screen in half, announcing the dual-screen visual that will sustain for the rest of the mother. Immediately, Noé announces the heartbreaking thematic underpinnings of the film: the disconnect that forms between people over time; the slow, inevitable fatigue of the mind; the loss of self; the inability to find meaning in meaninglessness. Noé isn't one to beat around the bush, and that's what makes him great: his films are tragic, casual detailings of the mundanity of life. And the sooner you realize it, the sooner you can steep in the misery at hand.
But "pure misery" is nothing but self-flagellation; indulgent, masochistic art. There needs to be more—again, Noé delivers. Elle slowly loses her mind and memories, while Lui desperately clings to the knowledge he has left—a key dynamic of the film. Elle can't make sense of anything, mindlessly wandering around her apartment and town with no will or reason. While Lui tries to make sense of everything, attempts to find clarity and reason in this unforgivably cruel world. One is lost, while the other is trying to convince himself that nothing is lost—that we can make sense of this senseless world, of our frail bodies, of our decaying minds.
And there rests the introspective beauty, the hidden optimism of Noé's aesthetic: like any sci-fi film that defamiliarizes a current political situation, or any horror movie that defamiliarizes a hardship in life, Noé defamiliarizes the banalities of life by sinking deeper and deeper into the banalities of life. Vortex isn't necessarily obscure—people lose their minds every day. But much like his masterpieces—Enter the Void (which might very well be my favorite movie ever) and Irreversible—there is clarity hidden within the agony of Vortex. The film reveals the preciousness of life, the urgency of holding onto the ones you love, the fragility of our consciousness.
Perhaps it's impossible to ever make sense of life—or, at the very least, it's not practical. If we spend our entire existence trying to solve this constantly evolving puzzle…how will we feel once we reach old age and there are still missing pieces? That's no way to live. And there lies the power of Vortex: it's a wake up call to live your life. And the only way Noé can convince us to do so is through heartrending tragedy.
Watch Vortex on:
Confess, Fletch
It's a curious task to write about a movie like Confess, Fletch. I'm not quite sure what to say because…well, I don't think the movie gives me much to say. Director Greg Mottola wanders through a zany murder plot with jaunt and breeze. Death and robbery are treated like rather curious games; any dark, soul-shattering moments that would send any mortal into crisis feel lighthearted and transient; the stakes are high…but nobody ever seems to take notice. It's a movie that never pushes your buttons—quite purposely. It's there to have innocent fun, only going far enough to make you gasp at the big reveal (that's part of the murder-mystery schtick, right?).
This presents an interesting challenge to a reviewer. Because…what do you review? I'm a fan of Mottola, but I wouldn't say his aesthetic ever merges with the philosophical conflict at hand. Mottola is quite adept at finding an entertaining flow with his editing, at extracting great performances from the unlikeliest of candidates, at maneuvering through a plot with grace and ease. And once you realize all of that…well, what more is there? He is what he is. At best, it's an efficient filmmaker; at worst, it's an inoffensive one.
In fact, that's a perfect word for Confess, Fletch: inoffensive. So if that's the case…then why do I like this film? Don't I have standards? Shouldn't I want a movie to press my buttons and force self-evaluation?
Maybe I'm getting old. Maybe I've seen too many movies hamfistedly go the intellectual route—only for a majority of them to convincingly fail. Which is why I relish a movie like Confess, Fletch. It's surely not an essential film. But it's also not inessential—which, as I watch more and more movies, is a quality I definitely don't mind. The script is too clever to cast aside; the performances are too realized to balk at; and, I'll be damned, Mottola's direction is more qualified and competent than nearly 75% of movies I force myself to watch these days.
The power of pretension is frightening in its appeal. After watching Confess, Fletch, I sat around looking for a million reasons why I shouldn't love something so inoffensive—before I realized I had created my own hurdle. In this pressure to only accept the intellectual, the transformative, the otherworldly…I forgot that movies can simply be fun. And a fun time at the movies is more enlightening (and much, much rarer in today's cinematic climate) than a pretentious misfire.
Watch Confess, Fletch on:
Nope
Check out our analysis for Nope
I have every instinct to hate on Nope. After all, much like the misfire Us, it's high-concept stuff—which annoys me to God's end about modern movies. At times it feels entirely concerned with social commentary—meaning the characters are likely to suffer. And it's an unabashed nod to the Twilight Zone and '70s sci-fi—a recipe for the kind of venerative material that makes me wanna hurl.
But…Nope works. Every time I went down a path of "this movie is bad for this reason," I found myself defending it. It is high-concept…but it's so high-concept that it becomes part of the fun. The movie's impudent aesthetic becomes informed by it. There is lots of social commentary…but it's honest, insightful commentary. The characters don't suffer, but work within the message. And yeah, it's an overbearing nod to sci-fi pioneers…but also has its own style and approach that feels refreshing and exciting.
Is Nope perfect? Well, uh…nope. Ultimately, it does suffer from the high-concept approach. The message is unique and timely, but it's also so detailed that it becomes a bit boring. I hate plot-heavy movies, and Nope performs quite a few cartwheels to string its wild narrative together. Again: it's all part of the fun. The plot is crazy and interesting. But sometimes it feels like we're spending a bit too much understanding the aliens' backstory and not enough time understanding the family affected by the aliens. There's such a great foundation for OJ and Emerald and Angel and Ricky that…it doesn't feel like the movie quite does their story justice.
Beyond the thematic meat, however, I found this movie to be an entertaining watch. Nope doesn't sanitize its horrific moments, which drives me nuts about modern movies. Every single actor is doing awesome work. The alien spaceship looked cool as hell and I was always excited to see what they would do next. Plus, this movie brought back the western! In a new and exciting way!! Jordan Peele wins points for that one.
Watch Nope on:
Barbarian
Check out our analysis of Barbarian
Barbarian made me realize something I really, really hate about modern movies: world building. Not that I hate the idea of world building—heck, some of my favorite movies have built worlds full of nuance and wonder. Think the Harry Potter movies. Or something simpler like Eyes Wide Shut. I love those worlds.
So…why do I hate the world of Barbarian so much? To be honest, it has nothing to do with the "world" itself. I think a movie about a crazy dude who kidnaps women and keeps them in his basement is classic horror material that's ripe for insightful social commentary. My problem is with how that world is built, how that world is stretched by its narrative threads into oblivion, how that world ends up with nothing interesting to say because it's so concerned with being provocative and shocking that it completely forgot about its central character that we're supposed to care about.
There's nothing interesting to me about a world that uses the "yes and" improv approach, that just keeps building for the sake of building. That's never the case with Harry Potter or Eyes Wide Shut. Every new discovery in Harry Potter contributes to Harry's understanding of this new world, of his philosophical journey with Voldemort and his "dark side." And Bill's night out in New York City in Eyes Wide Shut forces him to continually confront his role in his marriage, his relationship with sex, his understanding of a dehumanized world.
But in Barbarian, what journey is Tess even on??? Every element of Barbarian represents a truth about the world: there are good guys like Keith that are hard to trust because of bad guys like AJ and evil men like Fran—and there are women caught in the middle of it all. And just about every creative decision in Barbarian builds on that concept, creating an exaggerated version of the world that Tess must conquer.
But my question is…when do we see that journey? On paper, the journey exists. But in visual form, it's a complete mess that ends up feeling barren in its delivery. We have to cut away from Tess's struggle to move on from a relationship and find her place in the world…to find out how terrible AJ is, to find out that Frank has this weird operation in his basement, that a local homeless man knows all about The Mother, than Detroit is a terrible run-down city, that Tess is in a bad neighborhood—I'm sorry, but it's all just so boring and stupid to me. All of that narrative material is built around Tess, but none of it is in service to her character. It's all part of the film's very blunt social commentary, and it's never done with any flair or style. It's all nothing but information, and information is the most uninteresting part of any movie ever. Give me more time with the characters instead. And let the world build alongside them.
Watch Barbarian on:
Jurassic World: Dominion
Check out our analysis of Jurassic World: Dominion
It is absolutely beyond me how the world decided that this was the worst movie of the Jurassic World trilogy. The first one is practically unwatchable as it spits in the face of everything that made Jurassic Park so great. But Dominion completely reinvents the franchise formula while also adhering to the wonder and adventure of Spielberg's original.
Director Colin Trevorrow really came into his own with this one, cleverly playing with the meta formula that so many other Hollywood series clumsily fumble. The movie is constantly a commentary on itself as a ridiculous addition to a prestigious blockbuster franchise—an unnecessary cash-grab that's pulling that age-old trick of bringing back stars from the original film. The difference with Dominion is that it finds a perfect blend of self-deprecating humor and legitimately interesting ideas—with a fast-paced ever-changing narrative to boot. As my friend Tony Walter pointed out, Dominion's breakneck approach pays homage to the fantastic Fast and Furious films that give you every single freakin' cent you pay for the price of admission—and then some.
If people are disappointed with this version of Jurassic World, then it's no wonder why blockbusters have become so boring, formulaic, and unwatchable. Dominion is everything I wish summer movies could be again. Sadly, given the less-than-stellar box office returns (A MERE $1 BILLION), this may be the last exciting Jurassic movie we ever get. Shame.
Watch Jurassic World: Dominion on:
V/H/S/99
Yet another moment I feel completely detached from the film-loving community. Maybe it's a matter of expectations, because when I sit down to watch yet another addition to the V/H/S series, I'm not expecting classic horror—I'm expecting something fun, something ridiculous, something completely…well, unexpected. And that's exactly what I got with V/H/S/99.
My problem with so many horror movies is that they feel barren and impossibly grim. Who wants to watch people swashed in a gray color palette look miserable for 120 minutes? I'll take chaotic experiences like V/H/S/99 any day of the week. Yes, some of the segments' formulas (Suicide Bid for example) are overused—but the trajectory of each segment is stunningly unforeseeable. Ozzy's Dungeon went through so many twists and turns that I gleefully couldn't keep up. The Gawkers felt disorganized until everything came together in the end. And To Hell and Back felt like a low-budget version of Norse Mythology set in Hell—there's nothing I can think of to compare it with.
Maybe the problem is that people are watching these movies by themselves, hoping they'll experience the next Suspira or something. I watched this with my friend and we had a heck of a time. Part of the V/H/S franchise's beauty is that each individual segment doesn't have to be perfect—heck, it doesn't even have to be good. Because before you know it, it's over and you're onto the next one. And you can laugh about how dumb the last one was as you watch the new one. Call me crazy, but that sounds like an awesome time at the movies—and way more fun than half of the self-serious crap I watch half of the time.
This Much I Know to Be True
This film had moments where it really hit…and moments where it sorta dragged. The moments that hit are when Nick Cave is simply talking to the camera about his life, his philosophy, his artistic process. And the moments where it drags aren't so bad because Nick Cave is usually being awesome and singing an unbelievably beautiful song, while Warren Ellis is being weird as hell.
The big problem here is director Andrew Dominik, who somehow made the haunting journey of Nick Cave feel kinda boring. Dominik's lazy eye feels as dull as ever here, never moving the story in any coherent way and always choosing the exact same camera movements to capture Cave's music. I honestly started to feel dizzy spinning around Cave and Ellis that much.
With all that said, I enjoyed sitting down with this film. Again: Cave is saving the day here. He is so inherently interesting and fascinating to watch that you're pulled in. The experience feels intimate not because of Dominik, but because Cave feels like he's sitting down on your living sofa to discuss life. Just like his music, there are self-confessional moments that are truly gripping and will move you to tears.
Don't Worry Darling
Check out our Colossal Movie Guide for Don't Worry Darling
There's a recurring trend in modern cinema that for a while irked me—but is now starting to depress me. The message and social commentary of woke films is starting to take importance over character and theme and style…when really the message and social commentary pave the way for those crucial artistic elements.
And Don't Worry Darling is an unfortunate example of what can happen when the foundation of your film crumbles. The movie's ideological thrust—a criticism of toxic masculinity and undying patriarchy, an examination of society displacement, a call to rise against an unjust system—has no bite because there are too many outstanding questions (for which we are only provided vague, unsatisfactory answers) about the characters and the world they inhabit. I never thought I'd be calling for more character exposition or more information about the Victory Project—and, in fact, maybe I'm not. Instead, perhaps I'm just looking for something simpler, something more efficient and cohesive, something that allows a pretty important message to take shape and become a disturbing reflection of society.
But without a strong foundation…we're left with nothing but a message. And that doesn't even come close to utilizing the full potential of film. Art has the power to shift society, to challenge the overwhelming groupthink, to motivate this generation and the next one. But Don't Worry Darling just sorta…preaches to the choir. The characters and the setting aren't ambitious enough or clear enough to reveal something new—which means it has a null impact. Which, ultimately, means nothing is accomplished with its social commentary. Let's stop this trend, please.
Bodies Bodies Bodies
The filmmaking team behind Bodies Bodies Bodies tells you everything you need to know about this movie: a bunch of older Millennials and Gen X'ers who have something to say about Generation Z. What exactly do they have to say, though? Beats me. Much like two of the other worst films I've seen this year, Scream and Texas Chainsaw Massacre, the commentary feels pointed and directionless at the same time. Clearly there's plenty to navigate regarding Gen Z's disconnectedness as a result of its undeniable attachment to technology and social media. That thematic material is inherently tied to a project of this nature—just like it was for Scream and Texas Chainsaw Massacre.
But just like both of those turds, the insight is missing from Bodies Bodies Bodies. Instead, the film feels more like a bunch of oldheads sitting around complaining about the youths of today than legitimate, intelligent commentary. Woke terms like "ableist" and "gaslighting" are invariably thrown around willy-nilly, with the apparent message being that the characters don't really know what the words mean—but all I can hear is the writing team (which, by the way, consisted of five people significantly older than any of the characters in this movie) that A24 hired when its market research showed that Gen Z commentaries were hot this year.
That lackluster energy constantly plagues the film, as pretty much every intriguing facet of Bodies Bodies Bodies quickly fizzles out with a whimper. The movie's promising foundation quickly devolves into a boring mess of vapid kids bickering about silly, meaningless things (because apparently Gen Z'ers have nothing interesting to say); it's supposedly a "slasher," but there's nothing gripping or scary about any of the kills (most of which you don't even see); and there's no real mystery, as it's immediately clear that everything's a giant misunderstanding (just go watch Spin Me Round if you want a good farce). A film with no insight is a film without implications. So what's the point? If us old people are going to keep making movies about Generation Z, we could at least challenge them to self-evaluate. Instead, we're just showing them what we think we see—which apparently isn't much of anything at all.
I Love My Dad
Cringe-worthy cinema doesn't bother me—if anything, there's a perverse joy in watching something that makes you feel profoundly uncomfortable. I'm able to watch The Office through the slits of my fingers while wincing and cackling at the same time. So the concept of I Love My Dad never bothered me.
Instead—and this might sound insane to anyone who's watched this movie—perhaps I was disappointed in how safe this movie played its hand. A story where a dad pretends to be a girl that his son is dating online? And…it actually happened?! That's insane. That's the kind of story that can make me squirm in my seat until I've buried my face in the cushion. It's also the kind of story that—like any good genre film—can elevate above the ordinary. The commentary to be had about our fragile youth in a technological age, about the anxiety-ridden notion of online dating, about the increasingly blurred lines between parents and their children…I mean. Man. This movie inherently offers a great framework for a palette of uncomfy topics that should be explored in cinema.
So…why does the movie feel so safe? Reading interviews with director James Morosini—who based the film, once again, ON SOMETHING THAT ACTUALLY HAPPENED TO HIM—reveals the answer. He clearly changed a lot of details for the sake of his father and their relationship; dramatized things in the ways movies dramatize things; made it more digestible for a South by Southwest audience (that in return granted the film the Narrative Feature Competition audience award); and, ultimately, disinfected the film of any hard-hitting insight. The performances are great, the dialogue is funny, the story is entertaining. But that's about it. As somebody who can barely handle Michael Scott, I didn't find this movie very difficult to watch—and that was my biggest problem. I Love My Dad reminded me that being uncomfortable is often part of any eye-opening experience. Art confronts us with challenging ideas we choose to ignore as we blissfully live our happy simple lives. And I find it invigorating.
Maybe Michael Scott is my hero after all?
Mad God
Check out our analysis of Mad God
How could a wordless stop-motion film be so…moving? Mad God is cryptic in its presentation—but overwhelmingly clear in its form; in its grim reflection of humanity. Phil Tippett opts for style over content, for shape over matter, for the disposition of parts over subject. Tippett doesn't ever tell you what's happening, and instead focuses on the contemptible components of a lost world that must be vanquished. The references to Leviticus and the Tower of Babel at the very beginning are really all we need to understand the crushing tone of this film. The colors and contours of this infernal realm paint a world in desperate need of vanquish, and its monstrous inhabitants reek of impudent insolence—it's not hard to see how Tippett views this twisted world we actually live in. The struggle between everyone—from the disgusting behemoths that seek nothing but power and the mindless drones they punish, to the rebels who fight back to feel something, feel anything, to the Last Man who feels it's his God-given mission to end it all—is startlingly reflective of our reality. Sure it's a mythological version of hell, but look out: things could get this bad. Perhaps they are this bad.
Me Time
Me Time is both a movie I admire and a movie that misses the mark. These sorts of buddy slapstick comedies live and breathe on their gags and physical humor—of which the movie handles very well. But the chemistry between the leads and bit characters isn't always there, leading to several awkward moments. Still, the movie is commendable for its utter insanity, its commitment to a non-traditional plot structure that forces its main character (Sonny, played by Kevin Hart) to address his personal struggles in real time.
You can check out my full review of Me Time here.
Not Okay
Not Okay feels like a movie made for Generation Z'ers…but it stars a Millennial as its lead. And its director is a Millennial. So according to my calculations, this movie is actually about a Millennial trying to find her identity in a changing digital world ruled by the Z'ers…whoa. This movie caused me to have an existential crisis. And I kinda enjoyed it?
I wrote about it here in my review of the film.
Vengeance
There's part of me that wants to love Vengeance. As a satiric critique of liberalism, of the sometimes hollow disparities between various parts of America, of white dudes who'd like to become podcast famous, I'm into it. B. J. Novak is clearly a talented writer with lots to say, and he does a great job of inhabiting someone who's forced to self-evaluate and grow up. And nothing will make you grow up faster than being forced to confront the sorry split-roads of America. His character Ben is chasing what's been sold to him as the liberal American dream—but it must come at the expense of a rural conservative community. No matter how heartless you are—and trust me, Ben is a real dingleberry—that is not an easy task. At some point, you'll have to reckon with yourself, with your choices, with the changing American landscape you thought you understood so well.
So yeah, the film's intent is great. But…it's never realized. Every time Novak harps on a cultural difference between conservative and liberal settings, it doesn't carry any heft. Maybe sometimes it's funny? But before long the comedy wears off, and all we're left with is a handful of lame observations that really aren't critiquing anything at all. Lame plot devices and villainous switch-ups remove any and all nuance from what could have been an acerbic-yet-honest portrait of our country's divided times. Amidst the needless infighting that exists on a daily (hell, try hourly) basis, people are hurt, people are lost, and people are forgotten. Our ability to recognize that story and tell that story is an important part of massive, nationwide change. That's a gargantuan topic for any filmmaker to take on—and for that, I applaud Novak. But personally, I could never become part of these characters' lives and recognize my country reflected in them.
Orphan: First Kill
An amazing thing has happened—potentially a miracle? And I'm overjoyed. This is a long, rocky road, but please come with me. I'll hold your hand the entire time.
I talked about this already in my Automata piece, but I'll go ahead and say it again: when I watch a movie, I want to see something different. Something new. Something indulgent. Something unhinged. "Unhinged" doesn't have to mean out-of-this-world-nutter-butter-crazy. I'm asking for art that doesn't feel beholden to rules or structure; art that envelops itself in unmitigated style and flair; art that knows exactly what it wants and doesn't care who or what stands in its way. I want a movie, a book, an album, a painting to take me on a journey and not care about how uncomfortable or bizarre it'll be. Normalcy is for the weak, brazenness is for the eternal.
So how exactly am I going to transition from that bold statement to…Orphan: First Kill? It might seem crazy, but I can think of no easier changeover. Year in and year out, I watch horror movie after horror movie—wait, let me rephrase, because while the horror genre is in a sad state, this issue really goes beyond genre. Year in and year out, I watch weak movie after weak movie that doesn't own the audacity or fearlessness of this film that is seemingly nothing more than a studio cashing in on a moderately successful 13-year-old horror flick. Hollywood constantly tiptoes around what is comfortable, what is safe, always careful not to offend anyone, hiring the same tired actors, praying that the critics aren't turned off by anything too adventurous or too out-of-touch with pop culture sensibilities. When you watch as many movies as I do, it starts to feel like a game Hollywood is playing with me—except this game isn't fun at all. And I need an aspirin afterwards.
God forbid that Orphan: First Kill is the movie I want. Not Everything Everywhere All At Once, which philosophically bloviates and dangles its settings and costumes in my face, hoping I'll clap and cheer the entire time. Not The Lost City, which pairs two A-list stars together despite them having zero chemistry and begs me to care about whatever superficial struggle the studio has deemed safe enough for a feature-length treatment. Not Scream, which only bears resemblance to its predecessor in name alone and never once takes an adventurous step to differentiate itself, to find its own personality. I want a movie that doesn't care what other movies do or what other people will think.
This 31-year-old woman named ESTHER with a thick Estonian accent is pretending to be a young American girl? Sure. She has to sleep in a pink room and pretend to be a child for the next seven years? OK. She has superhuman strength and recklessly kills adults without much trouble whatsoever? Who am I to judge. Her "mom" is actually a psycho cuckoo lady who goes from a nice middle-aged housewife to an unnecessarily vulgar sailor with an impulse to kill? Look, I'm just here to have a good time—I don't want to get mixed up in any of this. Carry on!
This is why the game is no fun. Because people don't believe any of this should happen. It's crude, it's wrong, it's flat-out obscene. Or worst of all: it's artless. Art isn't allowed to do any of this, so this isn't art. This should be ridiculed. This doesn't belong here. So let's scoff our noses and move on—what a pretentious attitude.
But…wait a minute. People don't really seem to hate Orphan: First Kill all that much…do they? It's got a 73% score on Rotten Tomatoes. A slightly middling score on IMDB, but that's OK. And the reviews on Letterboxd seem to get it (*gasp*). The overwhelming attitude seems to be, "This is awesome because it's so crazy," or "Wow I've never seen anything like this before." People are genuinely impressed by a piece of art that's so unabashedly flipping off the idea of playing it safe.
So what else is there to say? Maybe we're in a transition. Maybe people are starting to get sick of these movies that I've been sick of for years—or maybe these people have always existed, and in fact exist in droves, and I just couldn't hear them over the vocal minority. Maybe…I'm not alone? And if that's the case, then maybe money-hungry Hollywood will notice. And things will start to change.
OK, I'm not that hopeful. But…maybe?
So here's to Orphan: First Kill—the bravest movie of 2022, the movie we didn't know we needed.
Spin Me Round
There's a real beauty to farce. In fact, I really romanticize the plight of farce in today's meaning-obsessed movie culture, which places way too much importance on significance and explanation. This plot thread must lead to this plot device; this exposition must explain this character's actions; this moment must have profound implications for the story at hand…ugh. Yuck. Look, I'm okay with this style of storytelling—it's a very traditional and digestible way to explore the truths of life (plus it's sort of our job to explain movies on Film Colossus). But to believe that movies must follow a set of rules in order to be philosophically interesting and dramatically weighty? That's limiting.
Farce is a natural antidote to such reductiveness. While you're searching for meaning and social relevance and spiritual transcendence…the artist is laughing at you. Laughing at their characters. And laughing at themself. It's all a joke anyway, right? This character is confused about something they don't understand, and then ropes all these other characters into their tiny misunderstanding to create a bigger misunderstanding, and then becomes convinced of this bigger misunderstanding so deeply that any and all meaning or comprehension that had ever been assigned to life goes flying out the window and all that matters is this sh*tstorm happening right here and now. Chaos is the reality—and you're not prepared to handle it.
Right then and there as I was writing about farce, it really made me realize how vital a movie like Spin Me Round is in the current zeitgeist. Movie lovers are sickening in their gluttonous desire for profundity and meaning. Not because those things aren't important—they are, in fact, the most important part of the moviegoing experience. But the discussion we're having here is about how we find such profundity and meaning. Any dork with a Twitter profile can get online and scream and whine and complain about how Spin Me Round doesn't "go anywhere" or "do anything" or "say anything" about this or that or whatever personal problem they're dealing with or social issue they can't wrap their minds around. "Movies, stories must make us reflect on the state of the world, the state of ourselves, and there's no time for fun and games."
Oh, the irony. What's more reflective of the thoughtless chasm currently inflicting society, the inescapable sense of meaninglessness that pervades our individual spiritual journeys, the absolute lunacy that has become our everyday political climate than a silly movie where silly things happen to silly people for no reason whatsoever? The only reason Amber (played by Alison Brie) gets roped into Nick Martucci's weird coital romp is because she was too busy imagining a fairy tale life with some rich loner who sells mass hoards of bland tomato sauce for a living. Her entire situation is stupid…and that's the point. She needs to wake up. She needs to stop waiting for catharsis and enlightenment to fall into her lap, and instead manufacture it herself. In fact…every single character in this movie needs to wake the heck up.
And when it comes to movies, you should too. Stop searching for the why and just appreciate what is. The beauty of Spin Me Round exists in the moment with these characters. It's a truly post-cinematic movie in that way (which really makes you realize how ahead of the curve Shakespeare was), in that the story has no time for explanation and positioning. Sure, everything makes sense at the end—but that's not really the point, is it? If that was the point, then Spin Me Round would truly be (again, the irony) a pointless movie. We are lost in the chaos with all these engaging characters (played hilariously by every all-star in this movie), and that chaos is truly reflective of the confusing human experience that, gosh darn it, just flat out doesn't make sense half the time. Isn't that where the profundity lies?
Babysitter
I've been on a bit of a journey ever since I watched Fresh. The movie simply wasn't for me. Fresh felt like it was constantly skirting around the uncomfortable realities for a woman in today's society, unwilling to embrace the most gruesome and distressing aspects of the horror genre. Because of it, the aesthetic felt a little off—constantly jostling between playful and frightful in a way that felt a little too flippant.
After watching Fresh and having the negative reaction I did, I then read B. Ruby Rich's essay "In the Name of Feminist Film Criticism." It was a tad earth-shattering for my worldview of film and film criticism to be challenged in the way she challenged. In particular, one passage stuck out:
"For a woman's experiencing of culture under patriarchy is dialectical in a way that a man's can never be: our experience is like that of the exile…the ultimate dialectician for that daily working out of cultural oppositions within a single body. It is crucial to emphasize here the possibility of texts to be transformed at the level of reception and not fall into a trap of condescension toward our own developed powers as active producers of meaning."
Essentially, the central message of the essay suggests that feminist film criticism must define the ways in which women express themselves on the screen. The set of vocabulary that has existed for thousands of years in regards to narrative structure and storytelling technique was born from a patriarchal system. As artists, women never had the same opportunities (which continued for the first few decades of film's growth). So when they finally came upon the scene, critics were using a male-defined set of vocabulary to describe films made by women—when, in fact, movies made by women are threaded in a different language. Thus, an adjustment to the way we view and write about these films is necessary.
Anyway, long story short: I didn't exactly have an open mind when watching Fresh. Do I need to love the movie? No. I can criticize aspects of it. But it seems reckless to do so without recognizing that certain sensibilities and insights might be lost on somebody who has mostly seen movies made by men.
That incredibly long intro brings me to Babysitter, which I was really excited to watch. The irony here? I was excited because the director, Monia Chokri, had been a star of several movies made by a male director I love: Xavier Dolan. Before even starting the film, I had a male presence in mind. Upon realizing that, I tried to reset my brain and adjust how I was viewing the movie—and I have to say, it helped tremendously.
Will I inherently be able to connect with Babysitter like my wife could? Probably not. Like the characters in this movie, she's probably observed quietly misogynist behavior from me over the years. But I can certainly glean quite a bit of insight from Chokri, who with Babysitter details the perverse predicament a woman experiences in a progressive society: it can feel both lonely and overwhelming for all the men in your life to learn a new language. Inherently, a societal adjustment places all the attention and focus on the men making the adjustment—and they're all trying to one-up each other with their woke-ism. In the end, the attention drifts away from the real problem and the people actually affected by the real problem.
The final shot of the film is the most telling (this is a slight spoiler, by the way). Several younger women go skating by Nadine, who is now on the other side of her and her husband Cédric's philosophical awakenings. Nadine and Cédric have experienced the stress of a quickly changing society, trying to both keep up with the modifications and reckon with many lost years of passivity. And then a younger generation skates by, happy to just be alive and blissfully ignorant of what Nadie and Cédric have gone through. It's a strangely optimistic note about how such a tough fight is necessary to make way for the next wave of society. It really brings the entire movie together and makes you realize how necessary the anxiety that's part of Chokri's aesthetic is to the film's central point.
Needless to say, Babysitter was an eye-opening experience. I might not completely understand this new language—but at least it's starting to make more sense to my ears (and eyes).
Prey
It was interesting to watch both Prey and Alien vs. Predator this week. As two out-of-left-field additions to the Predator franchise, I was really intrigued by the inherent modern themes each addition would bring to such a rich, deep commentary. The first Predator movie was a masterful critique of toxic masculinity, with each character dying at the hands of an alien creature that constantly emasculates them in ironic fashion. As the men fight back, they flounder and squirm and agonize—an about-face from their earlier ruthless energy when they desecrated their opponents with superior weaponry.
Alien vs. Predator brought an interesting twist to that equation, pitting the Predator against the Alien, a symbol of demonized femininity that has been projected by society. Two opposing forces that come together to represent a giant social flaw? That's what I pay good money for. And Paul W.S. Anderson delivered.
Seemingly, Prey also had a great concept to serve as its foundation. It's no secret that women haven't been afforded the same opportunities and rights as men in this world. It's also no secret that the unconquerable male ego would be damaged if the playing field was leveled even a little bit. And you see both of those energies playing out as Naru tries to find her place in the Comanche tribe by pursuing a traditionally male path all while the Comanche men snarkily snort at her attempts to become anything but a housewife who cooks and cleans. What better way to overcome such an ostensibly insurmountable social barrier than to have Naru battle a Predator—perhaps cinema's most striking representation of toxic masculinity? Yeah, it was written in the stars for Prey (which, by the way, is a perfect title for this feminine take on the franchise).
Yet…sigh. Doesn't it feel like the movie fumbled this premise a bit? All of the pieces are in place for the aesthetic: the thematic meat is there; the characters all hit their marks; Naru is a great hero we can all root for; and the Predator character is as dominant as ever. But the movie also feels like it never goes far enough to truly become an arresting piece of social commentary. The violence feels spurious and sanitized when it should feel dangerous and undeniable. The dudes are all half-jerks who make nothing more than snide comments that feel rather weightless compared to the heinous acts committed by Dutch and Blain and Mac and Poncho in Predator. The Predator itself isn't awarded the same level of characterization and empathy it innately inherited from the opposing forces of other franchise films. And worst of all, the technical aspects—the fighting and choreography and editing—just all feels a bit disorderly and lame.
Prey needs to fully embrace its premise to become a crucial element of this franchise's societal examination. But the stylistic elements are so sterile that the movie almost starts to feel incapable at points. You can see what they're trying to say (hell, they're practically winking at the audience about the social commentary). But it just never comes to fruition. It doesn't have the bite a modern update of Predator deserves.
Wheel of Fortune and Fantasy
The great critic Pauline Kael had one simple request for filmmakers: "Astonish us!" Make us feel something we've never felt before. Let the art become transformative and eye-opening and reflective. Take us to an entirely different realm that's both completely foreign and achingly familiar. Art has the capacity to alter our DNA, to force us to take stock of the world around us and how we fit into it. The most exciting part of movies? There are endless ways to provoke such profundity.
All too often, movies resort to the spectacle. Making a spectacle out of life is a great idea—if the movie has enough pop and flair. To explore universal truths of life with expert rhythm, with interesting characters, with a realized aesthetic that combines imagery with evolution and philosophy—that's not easy. And thus, movies often get lost in the high-powered spectacle on display. Movies become so engrossed with the plot and the appearance that they forget what truly makes movies profound and entertaining: that unshakable connection we form with a story.
All this build-up is to highlight just how effortlessly Wheel of Fortune and Fantasy navigates these waters. It's a quiet independent film, yet it has the tenacity of a big-budget affair; people talk slowly and deliberately, yet it's an extravaganza of human conflict; we never leave the city, yet it feels like we've navigated every throbbing emotion and burning struggle that can possibly infect someone on this planet earth. Regret, sorrow, joy, self-doubt, cognitive dissonance, sexual desire, hopefulness, optimism, pessimism, narcissism—and, ultimately, life-altering catharsis. It's almost too much to handle in just one film.
Wheel of Fortune is most definitely a "spectacle" in every sense of the word. A spectacle that's disguised by the quietness of life that slowly consumes us. We aren't asked to accept a dystopian future where robots have taken over, or laugh at an absurd romantic comedy premise, or yearn for a superhero to save the day—all of that (and much more) exists in everyday life. And the fact that director Ryusuke Hamaguchi can place those same elements normally defamiliarized by movies into a contemplative drama? His ability to make elevated situations feel so intimate and recognizable? That's astonishing. That's why I go to the movies.
RRR
Check out our visual analysis of RRR
When I walked in (really I just sat down on my couch) to watch RRR, I was 90% convinced it would turn out to be the year's most overrated film this side of Everything Everywhere All at Once (which truly is overrated) and leave me saddened about the state of cinema culture—nothing but a feeble-minded political statement, an overblown melodrama with cringe-worthy acting, a big expensive spectacle inspired by the Marvel (Un)Cinematic Universe.
But…holy heck was I impressed. As someone who has seen several classic Indian films from the likes of Satyajit Ray, Guru Dutt, and Bimal Roy and has never digested the modern films from Bollywood and its competitors, I felt unequipped to handle the cavalcade of stunts and colors that immediately came flying at me. While I admittedly needed a few minutes to find my footing, I quickly embraced the energy of RRR. Something strange has happened in pop culture where every other movie has a dour, dismal, debilitating tone—perhaps it's the horrific state of the world? But RRR feels like the antidote. The movie replaces defeatism with impenetrable victory; its heroes smile instead of frown, strut instead of sulk, cooperate instead of sabotage; the message is one of hope and trust and humility. Its entire aesthetic is realized because it is true and honest and entirely committed. The movie doesn't worry about cartoonizing its villains or embracing humanity because those very elements are stylistically woven into its form.
The earnestness of RRR reminded me of Old Hollywood films from the minds of masters like Ernst Lubitsch or Frank Capra or George Cukor. People these days complain when a movie's intentions are obvious or when their characters speak candidly or when optimism is embraced…but what's wrong with that? Movies were like that for a long time (before haughtiness and self-absorption became cool) and people loved it. We enjoyed going to the theater and rooting for somebody fighting for a better life. We smiled when Maurice Chevalier sang a song directly into the camera. We were mesmerized when color and intensity and dynamism were embraced. I'm not annoyed that so many people love RRR—I'm thrilled that we've chosen to champion a movie that values the lost art of earnestness. Let's get Hollywood to make more movies like this.
Senior Year
There are movies I find offensively awful. Perhaps it's a big-budget sci-fi flick like Dune that's absolutely devoid of life or spectacle; maybe somebody has brutalized a franchise I love like Scream or Texas Chainsaw Massacre or Spider-Man; there's even a chance an arthouse movie like Hereditary or Vivarium or The Invitation horrifies my very being with its sickening ideology.
Then there are movies like Senior Year…which can't really stir up any of those emotions in me. It's a movie that's neither here nor there (nor anywhere else) as it meanders between cringe-worthy bits and pussyfoots around an onslaught of themes and ideas, never really making a point or saying anything of significance. It's a completely directionless movie that feels like its script was compiled by robots targeting Netflix's Millennial audience. "The '90s were awesome and Gen Z'ers are weird, amirite?" Netflix must think all of us thirty-somethings said in unison, laughing contemptuously as Rebel Wilson, donned in heavily layered, brightly colored clothing, danced around her childhood bedroom adorned with NSYNC posters and Josh Hartnett photos and other memorabilia that fail to give her an ounce of unparalleled personality.
The entire aesthetic is so mind-numbingly obvious that, once again, it's hard to get too mad because of how tedious and inoffensive it truly is. It's a purely bland experience that never addresses generational differences with the weight or profundity of something like 21 Jump Street (a film that doesn't even take itself too seriously in the first place) did an entire decade earlier. You've got great actors—like Wilson, Sam Richardson, Mary Holland (and let us not forget all the younger actors)—doing their best with humdrum schlock. It's so strange to never once be challenged intellectually or emotionally during a film. It's pretty sad when the only positive takeaway is that I wasn't completely offended by the experience.
Dog
People often make fun of my love for Magic Mike XXL. Which, honestly, I understand. After all, it's a movie about dudes who take their clothes off. Could it possibly be deeper than that? What people don't realize, though, is that Magic Mike XXL is also a loving tale about a bunch of people helping each other find the change they need in life. The narrative is less reliant on drama and plot, and more focused on characters and atmosphere. It's an insanely optimistic film about the power of human nature that's emboldened by an incredibly drawn design, mood, and feel from director Gregory Jacobs. The movie has no time for traditional storytelling methods and instead unfolds alongside its characters' growth—which is reflective of the way life moves. Visually speaking, it's beautiful to watch because it feels so relatable, so profound.
Channing Tatum must have taken a note from Jacobs's playbook when he co-directed what is undoubtedly the most underrated movie of the year. Dog never stood a chance, mostly because of its bizarre marketing campaign targeted at moms around Valentine's Day. But Dog is anything but a romance. It's a full-on drama about somebody who is completely lost in life and needs to be pointed in the right direction. Jackson is a deeply flawed character who isn't disguised by movie theatrics. He's blockheaded, he's dispassionate, he's confused—a desolate human being in limbo psychologically. And he's presented as such. As he moves through various settings and meets various people with his dog companion, his general apprehensiveness toward becoming a full-fledged person with his own unique path in life slowly whittles away.
The movie's simple title becomes reflective of Noah's sentiment that God can be found in anything or anyone—a plant, a parrot, your barber—that allows you to speak and examine yourself. Conveniently for this film, "dog" is "God" spelled backwards. And it's beautiful to watch this intensely damaged character find the solace he needs in something that can't even speak back. Their connection simply is. This is the pivot he needs to make the most of himself. It's such a raw and visceral portrayal of the slow, gradual inner-workings of life that words can't possibly justify.
The Gray Man
Over the years, movies have offended me for a variety of reasons: Argo with its faux-political, holier-than-thou pomp; Scream with its complete and utter bastardization of a franchise I adore; Hereditary with its cold and callous treatment of human life. But perhaps never before have I hated a movie so much for being so…lame? Pointless? Barren? The Gray Man has nothing interesting to say and nothing interesting to show me for two-plus hours. It is the most by-the-numbers action movie I've ever seen—and not just with its wannabe Jason Bourne storyline. Visually, the Russo brothers have crafted an aesthetic that is so free from flair and style that "The Gray Man" becomes a perfect title for their first of what I'm sure will be many boring Netflix-funded projects.
In 6 Underground, the characters choose to become ghosts to protect the living people they care about. But in The Gray Man, Sierra Six chooses to become a ghost…because? Because he was wrongfully convicted and now has a chance to go outside and do the CIA's dirty work? Really, I think it's because Netflix had $200 million lying around and wanted to hire the dudes who couldn't even make Avengers: Endgame—perhaps the most intensely hyped movie of the 21st century—feel exciting. The movie has no thrust, no foundation, and only finds its heart when a terminally sick child comes along, or when it needs to quickly recall a past when Sierra Six was abused by his father, or when this sad thing happens or that sad thing is convenient to the plot. The Gray Man putters along and only asks us to care when it's time to care. Otherwise, it's a colorless fart of a movie that has no life and—much like a person with no personality—nothing much to say.
The Bob's Burgers Movie
I agree with the general opinion that Bob's Burgers works better as a show than a movie. Simply put, there isn't enough story here to sustain 90 minutes. But there is enough humor and heart to make up for it. The Bob's Burgers Movie certainly isn't the most challenging film in the world, but its light and breezy approach to character and drama makes it feel welcoming and soothing. The nadir of the movie (Bob's restaurant might not be able to pay this month's business loan payment) is so simple and familiar that it almost becomes background noise, making way instead for a bevy of everyday human struggles that are fixed by the simple power of family. The narrative unfolds in a rather lackadaisical manner, twisting and warping based on whatever Bob or Linda or Tina or Louise or Gene is dealing with in that moment. The movie's warm and loving sentiments about family are only enriched by the eccentric characters that dart and dash around a family trying to save its restaurant. The stakes are small compared to most movies, but so high for the Belcher family. And I had fun rooting for them.
Morbius
I'm already on the defense. Because people will wonder, "How could you possibly hate Everything Everywhere All at Once…but like Morbius?" Which saddens me. Because it makes me realize Morbius was never suited for this world. In this timeline, quality has been associated with high-octane movies with "depth" like Everything Everywhere All at Once that beat you over the head with an aesthetic so heavily that its rather humdrum musing about life becomes "philosophical poetry" that's been deemed "important" by the increasingly unreliable critical landscape. And this timeline doesn't have time for Morbius, which doesn't follow the rules we've set up for narrative, for editing, for acting, for all-the-things-a-movie-must-do-to-be-taken-seriously. The world has self-serioused itself into a corner, to the point where a wacky conundrum of a superhero story that stylistically doesn't feel anything like the barrage of Marvel and DC movies we've been forced to consume for over a decade is met with haughty snort. "This isn't how we do movies, Morbius. So please, kindly see yourself out."
I'll choose to exist in a different timeline. I believe Morbius's commentary about the power and ethics of science is interesting. I believe Jared Leto is giving a great, over-the-top, campy-as-hell performance. I don't believe the narrative "rules" established by traditional methods of storytelling necessarily apply to movies (or any piece of art looking to rewrite the rules of narrative). I believe Morbius is elliptical with its narrative logic because the narrative logic isn't nearly as important as the themes and characters at hand (and isn't that important when it comes to movies in general). I believe the movie has a sense of humor about itself (a big no-no in the current movie zeitgeist) that allows it to feel light and playful without sacrificing thoughtfulness. I believe the editing is sound, the colors are vibrant, the direction communicates a mood and feel I find effortlessly enjoyable.
And most of all, I believe Morbius would have a chance in a different timeline where the rules for cinema weren't so rigidly (and stodgily, I'd argue) defined. I'm more than happy to champion a movie like this.
Fantastic Beasts: The Secrets of Dumbledore
Of the many blockbusters to hit theaters this year, David Yates represents a beacon of hope. The vision this guy has is astounding—the fluidity of his scenes, the emotion he gives to important moments, the power he gives to characters. The first two scenes of this movie had me in absolute awe. Yates is showing all these wannabe genre directors how to construct an aesthetic and stay true to it throughout a picture. His biggest hurdle, unfortunately, is the money-hungry film studio looking to build yet another cinematic universe. Only the executives at Warner Bros. have the power to disrupt such impeccable flow and pacing—and trust me, they constantly do with throwbacks and foreshadows and wink-winks. It turns an otherwise breathtaking experience into a somewhat stilted story that, in the end, is just another piece in the Harry Potter Cinematic Universe (something I'm profoundly uninterested in). In the end, The Secrets of Dumbledore wins because of the artists involved. But it sure had to put up one hell of a fight.
X
Read my visual explanation of X here
In a world where independent horror felt like a lost art, Ti West was there with House of the Devil. Fast forward 13 years later, and West is back—this time to revive the slick flasher flick bankrolled by A24. While most of the horror movies that come from everyone's new favorite film studio are cringe-worthy and pretentious and afraid to show us anything truly gnarly, X has the confidence and poise that only a master like West could devise. Maxine's struggle to live her life to the fullest plays out so well in the horror arena. West is very adept at using the genre's bloody offerings to give these internal battles color and texture. The story itself is so entertaining and the characters themselves are so interesting that you almost forget that we're following one woman's journey to achieve mental stability from the very beginning. But by the end, the film sure makes its mark. And in its wake, I'm amazed more movies can't pull it off.
Fresh
The nicest thing I'll say about Fresh is that it was a decidedly different take on the horror genre. I appreciated the movie for going after toxic masculinity, for creating a world where women are literally butchered up and eaten alive by their male counterparts on the dating scene. That's the sort of commentary that can thrive and come alive in the horror genre. But…that's also the problem with this movie. It never fully commits to inspecting this deeply depraved portion of society, to exploring how terrifying it must be to be a woman surrounded by such chaos. The aesthetic is all off—sometimes it's horrifying, but sometimes it's flippant (and often it's flat-out uninspired). The movie often has a smirk on its face as it winks to the viewer and says, "See what we're doing here?" Which brings the social commentary to a standstill as the characters become nothing more than an extension of gender politics. I never felt attached to anyone because the movie never fully committed to their story or the genre's offerings.
Texas Chainsaw Massacre
If you'd like me to rant on and on about how terrible this movie is, then just hop over to my all-time movie rankings to hear me complain. But for my 2022 entries, I'd like to keep these entries short. So I'll just make this one request to Hollywood: don't bastardize franchises I love. Please? I'm asking nicely. The original two Texas Chainsaw movies (Texas Chainsaw Massacre 2 is a masterpiece, by the way) did an incredible job of surveying the political turmoil of the 1970s and 1980s when disgusting politicians were running amok, ruining this country and leaving people behind in their wake. The Sawyer family became the embodiment of the horror so many people in our country faced—and thus Leatherface symbolized our frustration, how we resorted to ripping each other out from the inside.
But this new Leatherface…ugh. It's embarrassing. I appreciate Fede Álvarez trying to bring this cultural cinematic icon into the Trump era, and maybe if he had directed the film it would have gone well. But he didn't, and what we got instead was a very half-hearted evaluation of what currently divides this country: Gen Z social influencers who will cancel you with their phones vs. inbred Texans who believe in the second amendment above all else. The movie's entire social commentary is just so boring, thus rendering the slasher portions of the film weightless. Plus the movie has been weirdly sanitized for the Netflix audience, which makes no sense for this franchise. Texas Chainsaw Massacre was flat out painful to watch. The end.
Friends and Strangers
Even though arthouse indies tend to frustrate me, I had a nice time with Friends and Strangers. One thing this movie does that I love is its lack of narrative structure. It's the kind of movie that just unfolds as its main character, Ray, moves through life. He's trying to get past a terrible break-up and having a tough time. And every interaction he has is part of his development and growth as he deals with that pain. The movie feels meandering and random because…well, life is meandering and random. You can look backwards and make sense of things later. But in the moment, life is always taking you exactly where you need to go. I also really love the movie's ambiance. The score is diegetic, and we are often surrounded by the sounds of nature and traffic as Ray moves from the countryside to the city. It's an incredibly relaxing experience that often reminded me of Australian filmmaker Peter Weir's Picnic at Hanging Rock—and wouldn't you know it, Friends and Strangers is directed by an up-and-coming Australian filmmaker, James Vaughan.
The only disconnect for me was that I don't know much about Australian life, and this movie was very much infused with social commentary. It was interesting to read about afterwards, but I definitely didn't feel the power of the film's commentary in the moment. Maybe upon rewatch it would click more. But for now, my reaction is that the film didn't quite grab me enough and make its point clear. I wanted a bit more there. Still, I would recommend this movie for anyone who can stand arthouse ventures.
Every movie I've watched up to July 7
Alright, so this is the first time I've actually sat down to rank the movies I've seen in 2022. As somebody who watches quite a bit of movies (I think I've seen about 150 movies this year?), I was surprised to see that I've only seen ten from 2022. I used to watch new movies CONSTANTLY, so I think this will inspire me to watch more!
Then again, as I look through this list…I can also see why I don't watch too many new movies. I am admittedly a bit of a curmudgeon when it comes to newer movies, as they usually disappoint me when pit against the classics. I love watching old movies because the rate of return is usually much higher for me. I'm getting more and more from old movies as I dig deeper into the classics…and less and less from modern movies as I struggle to find great new filmmakers. Sorry if you find that annoying about me 🙂
So far, this list only has five movies that I definitively like, with a few of them being on the edge. I enjoyed Deep Water, Jackass Forever, Kimi, and Ambulance, while I didn't care for The Northman, Death on the Nile, and The Lost City—and absolutely HATED Scream. But there was one movie I found absolutely transcendent, which was…
Maybe this isn't very surprising, as I host a Kanye West podcast. But remember: jeen-yuhs wasn't made by Kanye. It was made by two guys who grew up alongside Kanye: Coodie and Chike Ozah. And that is what makes this film so profound. Kanye's story alone makes for a great film. But the insight we gain from the people intimately involved in Kanye's journey, the people who witnessed him persevere, the people who saw him go through the best and worst of it all—that all elevates this movie to another level. In the end, the movie almost isn't even about Kanye, but about the world as Kanye tried to figure the world out. Kanye is the sun in his solar system, and we're all revolving around it. And we're all adapting to it. And we're all learning from it. It becomes motivation for how to think about how you live your own life—and how to avoid the pitfalls that could suck you under and ruin everything. Kanye West is a rarity in this world that we should cherish. Nobody lives on the edge like this guy.
It's no surprise that my other two favorite movies were made by filmmakers I grew up with—Michael Bay and Steven Soderbergh—while the bottom-tier movies were helmed by fresh new faces. Say what you want about Bay, but at least he's trying new and exciting things this late into his career. He employs every camera angle imaginable in Ambulance. It's a wild artistic undertaking: you watch a gripping car chase from the perspective of a city, but you're also intimately involved with the players. So you get this detached perspective from a media standpoint, but then you're forced to take a humanistic perspective we don't usually get. It forces us to consider why people sometimes do the terrible things they do. The world is more complicated than we think, less black and white than its often presented. And Bay explores this societal tension with stylistic mayhem. The landscape (along with the characters) constantly evolves and takes new shape. It's truly breathtaking at times.
And Kimi feels like a master came into the classroom to show all the students how it's done. It's not a BIG movie—and that's what I like about it. The point is simple, and the runtime is short. Which might make film seem like it's covering less ground than, say, The Northman or The Batman. But I'd argue that a film like Kimi is much more impactful in its approach, and as a result says more than either of those movies. It makes efficient use of the story and only shows us what we need to know. And as a result, none of the meaning is clouded and none of the commentary is overbearing. We are simply part of this woman's journey as she tries to make a pivotal pivot in her life. It's an overwhelmingly human story that's more relatable than anything else I've seen from 2022.
Meanwhile, a movie like Scream…oof. While Soderbergh and Bay are challenging themselves and stretching their styles in exciting new directions, up-and-coming directors like Matt Bettinelli-Olpin and Tyler Gillett just bore me to death. No, I didn't care for their 2019 movie Ready or Not—but at least that film felt of its own. Scream is an utter bastardization of a franchise that I've grown up loving. It also completely undermines the power and poetry of Wes Craven's beautifully campy approach. Even a lesser project like Red Eye has more life and charisma than anything we see in Scream. Craven was the master of making you care about his goofy characters. But everybody in the Scream remake is wooden and unlikeable—including the characters Craven created. What a travesty. Plus the concept was stale compared to Craven's approach, and it didn't leave room for anything exciting moving forward. Sorry, but I'm not interested in any future Scream movies involving these two.
Now for the other movies I actually liked. Deep Water wasn't incredible, but I really enjoyed the murky Fincher-esque tone. It's basically a Lifetime movie with a budget and two powerhouse actors. Ben Affleck is frightening as the silent, cuckolded husband, and Ana De Armas mesmerizes as the cartoonishly coquettish wife. They have awesome chemistry that made the movie enjoyable. But the bare-bones script kept it from reaching the heights of great erotic thrillers from the 90s.
I also enjoyed Jackass Forever—but not as much as I was hoping. I have a soft spot for that entire gang of weirdos I grew up watching. I'm not too far behind them in age, so I feel some sort of kinship with them. But at the end of the day, the stunts and gags simply weren't as good as the other movies. The highlights were the bees on Steve-O's balls and Ehren being trapped in that room with a bear. That last one…my god. Made me cringe so hard. I loved it.
You can read my full explanation of the movie Bubble here.
Bubble is a movie I'm on the fence about. While some of my favorite movies of all time are anime—Spirited Away, Paprika, Your Name—I feel like the genre has never captivated me like it has for others. And Bubble encapsulates that feeling (). The movie could have explored its deeply personal subject with more weight and emotion, but instead opted for world-building sci-fi tropes. Sometimes the best movies are the ones that don't feel the need to answer every single question…but a movie like Bubble appears obligated to explain everything. To the point where I'm not left to wonder, and instead told what to think and where to look and how much to care. It's a cool and interesting story presented in a very uninteresting way.
The rest of the movies on this list bore me too much to discuss in detail. The Batman is the only one that escaped complete mediocrity. I appreciate the movie for its scope and scale, but even the most skilled filmmakers would have a tough time keeping my attention for three hours. The movie simply isn't gripping enough to warrant that much time—it ends up ruining the intent. Still, there was some interesting stuff here.
Meanwhile, The Northman was a weird mix. I liked how gnarly it was. But…beyond that. There wasn't much. I wasn't very into the characters. The way the story unfolded didn't allow me to become too invested in them. Thus, the message didn't hit me very hard.
Death on the Nile was a sad sequel to the fantastic Murder on the Orient Express—a movie that did just about everything better.
And The Lost City reminded me of those terrible 2000s romantic comedies that were farted out by studios looking to capitalize on the latest Hollywood hunk. Yawn.