In this section of our Colossus Movie Guide for Aftersun, we will explain the film's ending.
Cast
Paul Mescal – Calum
Frankie Corio – young Sophie
Celia Rowlson-Hall – adult Sophie
Sally Messham – Belinda
Brooklyn Toulson – Michael
Spike Fearn – Olly
Harry Perdios – Toby
Ruby Thompson – Laura
Ethan James Smith – Scott
Kayleigh Coleman – Jane
Charlotte Wells – Writer and director
The end of Aftersun explained
Recap
On the final night of their vacation, Sophie and Calum sit at a table. Despite some trying moments throughout the trip, Sophie expresses she had a great vacation. In fact, she wishes it could continue. "Why can't we stay for longer?" she asks, perhaps earnestly, with the naïveté only a child could conjure. While they talk, a Polaroid photo taken by a passing photographer rests next to Calum's arm.
When Calum and Sophie return to the hotel, they stop at the bar where people are dancing to the song "Under Pressure" by Queen and David Bowie. Sophie is hesitant to join in, but Calum drags her into the crowd. Then, suddenly, the dance scene is interspersed with an out-of-body shot where an older Sophie desperately searches for her father in a rave scene. We deviate between a younger Sophie hugging her father on the dance floor and an older Sophie clinging to her father for dear life.
The movie then cuts to footage from a MiniDV camera. Calum is taping Sophie as she boards an airplane to go home. Sophie continually disappears behind the walls, only to run back and be playful with her father from afar. It is then revealed that adult Sophie is watching this video footage on her home television.
The movie ends with a shot of Calum holding the video camera. Sophie has left, so he puts away the camera and walks towards the doors to leave. As he exits, a rave scene consumes the room he walks into.
Meaning
The interesting thing about Aftersun is that we don't necessarily have enough details to definitively answer every question. Did Calum take his own life shortly after their vacation? Did something happen to Calum at a rave scene? Which scenes are dreams, which are imagination, and which are reality?
But within that abstraction and unknowingness lies the point of the film: nothing is certain. Aftersun is all about memory and how we piece our past back together. As an 11-year-old girl, Sophie seems unaware of her father's crippling depression. Calum hides his negative emotions and tries to create a fun and buoyant vacation. When we see Calum crying and mentally unraveling, did that really happen? Or is this the story Sophie has assigned to her father to explain something terrible that happened to him?
Before we really understand the true weight and meaning of the ending, we need to confront the fact that memory is a tricky thing. I think it's important to discuss Friedrich Nietzsche's hypothesis about memory. As a famous philosopher who founded the concept of psychoanalysis, aka mental therapy, Nietzsche thought that recalling memories with exactness could allow one to identify the definitive moments that serve as the root of one's traumas. But as we've learned over the years as psychoanalysis has developed as a field of study, it's not that simple. In fact…perhaps you cannot trust your memory at all.
Writer Eleftherios Makedonas explored this phenomenon in their analysis of Luis Buñuel's film The Exterminating Angel (a famous film that toys with the concept of psychoanalysis). Specifically, he wrote:
Memory is the product of the accumulation of layers upon layers of such old and distorted interpretations of reality. When recalled, later in an individual's life, they are by definition, something irrelevant to the real facts, which triggered them back in the distant past. As Nietzsche has put it, memory can be conceived of as the set of all our "previous false causal fictions". To such an extent, that even Freud himself has doubted whether we can assert at all that we really have memories from our childhood and not merely memories just vaguely related to our childhood; at best, these "childhood memories" of ours "… show us our earliest years not as they were but as they appeared at the later periods when the memories were aroused.
As adults, we are frantic to determine the root of our traumas and define the essence of our anxieties. We believe that by fully understanding our past, we can understand the present and why we are the way we are. And this appears to be the case with Sophie, who as an adult revisits footage from her vacation with Calum. While it is never explicitly stated in the film, director Charlotte Wells practically confirmed in interviews the overwhelming theory that Calum, who is in the midst of battling depression during the vacation, takes his own life shortly after the trip. Ostensibly, that trip to Turkey was the last time Sophie saw her father. So as an adult, Sophie believes that by revisiting the trip, she can figure out what led to her father's demise. While watching the video footage, she revisits other parts of the trip through her memories.
But here's the thing: memories aren't…well, real. In a sense they are real, as Calum and Sophie did take a vacation together, and Sophie remembers the kinds of conversations they had and the kinds of things they did. But memories also aren't real in the sense that we're just piecing together assumptions of our past. Sophie might remember that she and Calum went scuba diving. But to what extent was Calum upset about losing the scuba mask? How much did that moment capture his anxiety as someone struggling to find work? How deep did Calum's financial troubles run? And how much did that affect his confidence as a man, as a father? How badly did he want to keep those mental troubles from his own daughter?
The truth is that Sophie will never discover the answers to those questions. By revisiting her memories—which, in truth, are nothing but approximations of what happened during their vacation—she can only hypothesize the answers. The only way to find definitive answers would be to speak with Calum, which Sophie cannot do.
Therein lies the tragic beauty of Aftersun. This is not a film that's concerned with providing answers; it's a film about accepting that you'll never find true answers. It's a core facet of the human condition, that we'll never truly figure everything out—not even about the people closest to us. That unknowingness weighs on us collectively, creating a society of traumatized beings itching to feel whole again.
As we revisit each of these final moments from the film—which range between Sophie's memory of the trip and dreams about her father and symbolic representations of her father's crippling condition—we can observe how this debilitating pressure that affects everybody is visually conveyed.
The Photograph
For instance, let's observe the photograph that sits next to Calum's arm and slowly comes into focus. This shot highlights the tension between memory and reality: the photograph is seemingly unambiguous, as it precisely captures something that actually happened. Yet, the emotional underpinnings of this photo are indeterminable. Sophie can certainly see Calum in the photo, but she have no idea what he's thinking or feeling in that moment, how close he is to ending everything.
This shot then becomes a poetic portrayal of an existential crisis that affects us all: we are constantly at odds with ourselves, putting on an image or face that disguises how we actually feel—and everyone around us is doing that as well. The photo slowly comes into focus, yet the overexposed lighting creates a strange sense of distortion that makes it feel surreal. The photograph undeniably captures reality, yet it doesn't even come close to representing the full reality of the situation.
The Dancing
Here, we see memory juxtaposed with a dreamlike representation of Sophie's relationship with her father—but remember, there really isn't much difference between the two. While dancing at the resort, Calum clutches onto Sophie, holds her tight, desperate to make the most of his final moments with her. As a child, Sophie is simply in the moment. Yet in her dream, she furiously searches through the crowd to reach her father and hold onto him.
The rave scene, then, becomes a tragic reversal of roles. In reality, Calum grasped Sophie in a moment of mental fatigue, determined to make a genuine connection. Sophie's recollection of this moment signals that Calum wanted to express all his troubles, to find some catharsis during these final moments of vacation. Whatever energy Sophie has assigned to Calum from her memory is then recreated in the dream—except this time she is the frenzied one. She is reaching out, begging her father to tell her what's wrong. Yet, just like reality, that conversation doesn't happen.
Side Note About "Under Pressure"
It's important to observe the song that's playing in the background of these scenes: "Under Pressure" by Queen and David Bowie. The lyrics inherently relate to Calum's struggle with depression, to Sophie's sorrow over her father's passing, as the song is all about the pressure we feel in everyday life. The lyrics in the first verse read: "Pressure pushing down on me/Pressing down on you, no man ask for/Under pressure that burns a building down/Splits a family in two/Puts people on streets."
But the most notable line that raised many eyebrows comes at the very end of the song. The track closes out with this outro:
Because love's such an old-fashioned word

And love dares you to care for

The people on the (People on streets) edge of the night

And love (People on streets) dares you to change our way of

Caring about ourselves

This is our last dance

This is our last dance

This is ourselves under pressure

Under pressure

Under pressure

Pressure
Several of these lines feel applicable to Calum and Sophie, such as "love dares you to change our way of caring about ourselves." But the biggest standout is "this is our last dance," which led many people to believe that Calum committed suicide after their trip. The song would then signal that this was, indeed, he and Sophie's last dance.
Interestingly enough, Wells told Indiewire that she didn't think much about the lyrics of the song when choosing it for this scene, but that "maybe some subconscious part of my brain knew what was happening." Which seems to imply that Calum did indeed take his own life.
"It's very satisfying because it was executed just as it was in the script," Wells continued. "It was always the culmination of the feeling that the whole film builds towards, so I am glad that it hits hard and it is ultimately an expression of grief and all of the complex feelings around grief."
The Video Camera
The video camera is the most important motif in Aftersun. As the film plays with memory, the idea of a video camera becomes paramount. Because, ostensibly, a video camera captures reality perfectly. Yet, as we discussed with the photograph, the daunting expanse of human emotion expands far beyond the confines of a screen.
When Sophie watches the airport footage, she isn't looking at her father, but at herself. There isn't much to determine about young Sophie, as she's so clearly vibrant and cheerful and genuinely pleased with her trip. Yet…what about the man behind the camera? Sophie sees herself in the footage. But what does Calum see? What is he thinking? Is he overwhelmed with negativity and stress? Does he think this is the last time he'll see his daughter?
While the entire film has been through Sophie's eyes, this shot is purely through Calum's eyes. And now in adult Sophie's house, she is seeing the world through her father—yet her distance from her father is gargantuan. She's so close, yet impossibly far away. This is another visual display of the disconnectedness we feel from others and how impossible it is to truly understand the gravity of someone's mental hardships.
The Long Hallway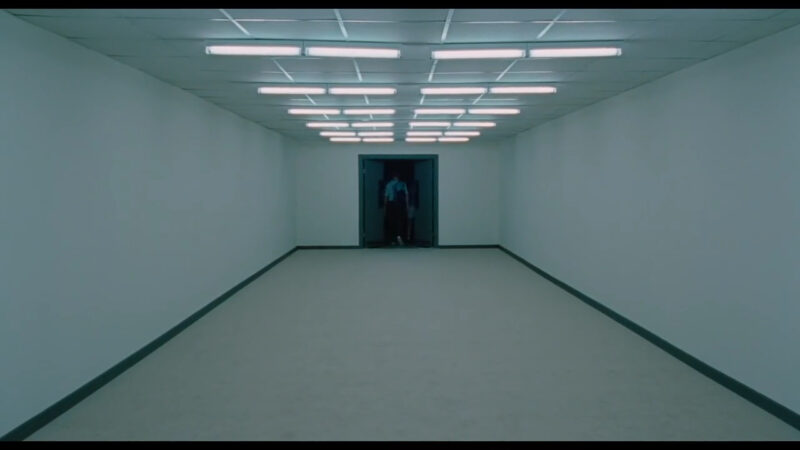 Here is one final moment where Sophie envisions her father's pain. We are now on the other side of the camera with Calum, who solemnly closes the camera and walks away. We know this scene exists outside of reality, as Calum wanders into a rave scene after walking through the doors of the airport. Essentially, Sophie's imagination clashes with her dream of Calum at the rave.
Now think about the sequence of events there: we shift from video camera footage that only captures the image of reality, to the reality of Sophie in her living trying to make sense of her father's passing, to Sophie's imagination of Calum walking out of the airport, to the dream where she searches for her father at the rave. At each step during the final moments of the movie, Aftersun constantly shifts between reality and distortions of reality. This sequence, in effect, perfectly captures Sophie's discombobulation as an adult who is desperate to understand something she definitively cannot understand. It perfectly captures what the movie is all about.
What are your thoughts?
Is there more to the ending that you think should be part of the Colossus Movie Guide for Aftersun? Leave your thoughts below and we'll consider adding them.