In this section of our Colossus Movie Guide for Mulholland Drive, we will explain the film's ending.
As a primer, be sure to check out David Lynch's ten clues about Mulholland Drive. The director provided these clues as a helpful guide since the movie's plot was so confusing.
Cast
Naomi Watts – Betty Elms/Diane Selwyn
Laura Harring – Rita/Camilla Rhodes
Justin Theroux – Adam Kesher
Ann Miller – Coco
Mark Pellegrino – Joe
Robert Forster – Detective McKnight
Brent Briscoe – Detective Domgaard
Dan Hedaya – Vincenzo Castigliane
Angelo Badalamenti – Luigi Castigliane
Michael J. Anderson – Mr. Roque
Bonnie Aarons – Bum
Monty Montgomery – The Cowboy
Melissa George – Camilla Rhodes
Billy Ray Cyrus – Gene
Patrick Fischler – Dan
The end of Mulholland Drive explained
Recap
The very end of Mulholland Drive involves a strange sequence of events. First, miniature versions of Irene (the elderly woman from the beginning of the movie) and her husband crawl under Diane's front door. They grow to human size and chase Diane around her apartment. To escape, Diane runs into her bedroom and shoots herself with a handgun. Then smoke fills her room, and out of the cloudiness comes the homeless man that lives behind the dumpster at Winkie's. Then there are several shots of Diane-and-Camilla/Betty-and-Rita smiling over the cityscape of Los Angeles. Finally, the movie closes with the woman with blue hair whispering "Silencio."
While that series of shots might seem disconnected, it becomes easier to understand when we break down the various parts piece by piece. Altogether, these shots represent Diane's inability to deal with both the guilt of taking out Camilla and her failed Hollywood dreams. Each of these shots recalls moments from her dream, which means Diane is dipping further and further back into that dream world and away from reality. And this is how the movie ends—tragically.
To better understand the underlying meaning of the ending, let's go through the entire final sequence moment by moment.
The elderly couple
Irene and her husband were first featured at the very beginning of the movie during the dance sequence. They stand with Diane and smile in a moment where Diane has won some sort of Jitterbug competition.
We then see Irene and her husband again at the beginning of Diane's dream sequence. When Betty arrives in Hollywood, she hugs and says goodbye to the elderly couple. Then the couple boards a taxi and smiles in a cartoonish manner. Being figures from Diane's dream, Irene and her husband represent the overwhelming optimism Diane felt when she arrived in L.A. In a way, they represent the adulation of an audience, of people who love you as a celebrity and root for your career.
But by the end of the movie, Diane's dreams have been crushed. She didn't make it as an actress. She has lost her lover. And out of pure jealousy, she has hired a hitman. In the end, Diane has completely compromised herself and her values. Instead of allowing her talent to earn a prosperous career, she went down a darker road.
Because Diane is unable to deal with that reality, Irene and her husband transport from the ethereal world to the real world. From dream to nightmare, the elderly couple becomes a symbol of Diane's broken dreams and fragmented self. These two people who once represented the optimism of Hollywood and the promise of a profitable career are now driving Diane to her demise.
Now this part is interesting. Diane shoots herself in the very bed where she had the dream about Betty and Rita. So by shooting herself in the same exact spot, Diane has chosen to ignore her reality and permanently exist in this imagined world where she can construct her own movie.
The monster behind the dumpster
All of this information will help us understand Lynch's ninth clue.
We first see the homeless person in the dream world when he scares Dan (played by Patrick Fischler) to death at Winkie's. At that diner, Dan tells Detective Domgaard (played by Brent Biscoe) about a horrible dream where a homeless person who lives behind the diner's dumpster. The detective then convinces Dan that he can only move past his nightmares by recreating the dream and confronting the homeless person. Unfortunately, that very act becomes Dan's demise.
We then see the homeless person one more time, just before the film's final sequence. Back in the real world, Diane visits the same diner where Dan died in the dream world and hires a hitman to take out Camilla. After he accepts the money, the hitman hands Diane a blue key. And when she asks what the key is for, the hitman simply laughs.
This is when we cut to the dumpster behind Winkie's. The homeless person is holding the blue box that during the dream sequence served as a portal between the dream world and the real world. We then cut to the blue box resting in a loose paper bag on the ground…and out of that bag walks the miniature figures of Irene and her husband.
The first time we see the homeless person, he represents our inner fears. Detective Domgaard believes Dan can overcome his nightmare by choosing to recreate it in the real world. But remember: this scene exists in Diane's dream world. And this homeless man represents a portal between that dream world and the real world. And Diane can't move from that dream world back to the real world until she confronts herself and the terrible thing she's done—which she is forced to do at Club Silencio.
Thus, Dan becomes this representation of the fact that you can't just outmaneuver your fear. Detective Domgaard is attached to this idea that your nightmares aren't real, that you can simply walk up to the homeless person and prove he isn't real. But your nightmares are real because they represent a part of yourself that you try to bury. You can't run from your nightmares, and you can't outsmart them—you must eventually address the fear and deal with it. Otherwise, you're doomed to this delusional dream world.
Sound familiar? This is Diane's exact situation. In the end, Diane couldn't escape her guilt. While in Club Silencio, she realizes her identity as Betty has been nothing more than a dream. Which is why she then finds the blue box in her purse. With the blue key she found earlier, Betty will be able to open this box and wake up, back in the real world, as Diane.
The homeless person's presence here at the end of the film is a reminder of this entire dynamic. Diane couldn't live in her dreamscape forever. At some point, she had to come back to reality. And back in reality, she couldn't overcome what she had done.
The meaning behind the blue box
It's interesting, then, that we cut from Diane shooting herself to the homeless person (by the way, the following information will help us understand Lynch's fifth clue). The blue key from the hitman is just an ordinary key. It doesn't unlock anything, and instead indicates that Camilla has been taken out. But in the dream world, the blue key unlocks the mysterious box held by the homeless person, who then forces Diane to confront what she's done back in reality.
We can connect this all back to Dan. Dan has a dream, wakes up from it, tries to come to terms with it, and then is completely overwhelmed when he visits the dumpster. For Dan, the homeless person represented the ultimate fear, or the sum of all fears. The EXACT same thing then happens to Diane. She goes through the same motions throughout the course of the film.
It's also notable that the very image of a homeless person represents "rock bottom." People travel to Hollywood to achieve fame and build riches…but could strike out and end up with nothing. That's the big gamble. So what image would represent the opposite of a successful movie star with lots of money and a big house? Someone who has nothing and lives behind the dumpster.
The shot of Los Angeles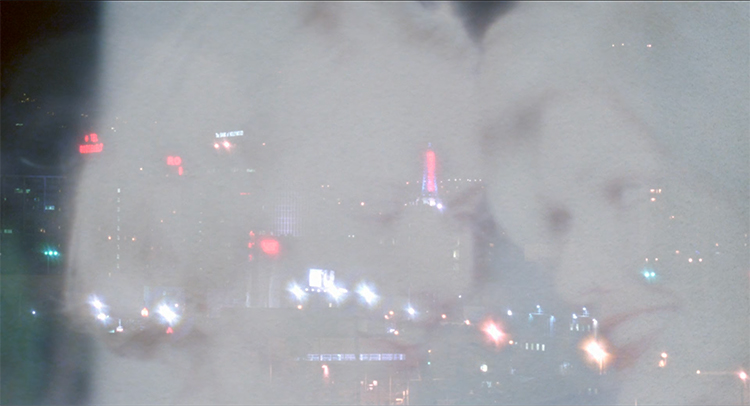 This is the saddest shot of the entire movie. After Diane's demise, we drift further into this post-death ethereal limbo where Diane once again becomes Betty and Camilla becomes Rita. These two lovers are happy as can be, laughing together as a spotlight shines on them and Los Angeles whimsically rests in the background. It's a moment of pure, unadulterated joy.
But…here's the thing: Diane is dead. We know this isn't reality. Rita is once again wearing the blonde wig (more on that in a second) she was wearing in Club Silencio—where Diane realized she wasn't living in reality, where she was forced to confront the consequences of hiring the hitman. The key then forces her to accept her reality and exit the dream world.
After Diane's demise, however, she comes back to this dream space. She and Rita are no longer fearful of reality, but instead blissfully living outside of it. They laugh and smile about being together…when in reality they were at odds with each other; the spotlight lovingly splashes on them…when in reality the chase of fame is what drove them apart; Hollywood compassionately hangs in the background…when in reality this city shattered Diane's dreams. It's all a lie. A lie that Diane has chosen to make her reality.
The connection to Rita Hayworth
Before we move onto the very last moment of Mulholland Drive, I think it's important to talk about one very important symbol we haven't addressed yet: Rita's name.
When Rita is standing in Aunt Ruth's bathroom, confused about who she is and why she's in Los Angeles, she looks up at a poster of the film Gilda. She observes the lead actress's name, Rita Hayworth, and decides to call herself Rita.
This is certainly meant to be a symbolic moment from Lynch. Rita Hayworth was a famous actress back in the 1940s and 1950s. So famous that the American Film Institute ranked her 19th on a list of the 25 greatest female screen legends of American film history. And she is most well known for starring in Gilda. Men adored her (she was famously a pin-up girl for military servicemen) and the press constantly reported upon her life. So you could argue that she enjoyed a fruitful career.
But here's the thing: Rita Hayworth also had a troubled life. She was abused by her father as a child, which she says led to her difficulties with relationships. She famously married five different men during her lifetime, including Orson Welles and Prince Aly Khan. And for all the high moments she enjoyed with her studio contracts, she struggled just as much. She would often battle with studio heads (like Harry Cohn at Columbia) and her star status dwindled in the latter half of her career.
In fact, she only experienced a resurgence in popularity when something tragic happened: she was diagnosed with Alzheimer's disease. Little was known about the disease at the time, and her popularity led to increased federal funding for Alzheimer's research. To this day, the Rita Hayworth Gala, an annual fundraiser for Alzheimer's research, has accrued more than $80 million.
It's no coincidence, then, that Rita from Mulholland Drive is experiencing amnesia and can't remember who she is.
That's the simplest connection we can draw between Mulholland Drive and Rita Hayworth. But we must also consider Rita Hayworth's erratic career. She enjoyed great successes as an actress…but also many, many troubles. From a distance her life seemed fantastic—but up close, you could see the cracks in the armor, the crippling nature of Hollywood on display.
Remember that Rita doesn't choose her own name in Mulholland Drive. This is Diane's dream, which means Diane picked the name from her own knowledge of Rita Hayworth. This is Diane's subconscious at work. Diane buries the ugliness and danger of Hollywood in the character of Rita—the very woman whom Betty is trying to save in the dream. This gives hope to Diane's plight, gives her an avenue to find success in the face of defeat.
But that ugly reality she buried deep in Rita will eventually force its way out. Rita was supposed to represent an escape from that reality, but instead forces Diane to confront it when she puts on that blonde wig and becomes Diane's doppelganger. Rita becomes the manifestation of Diane's innermost fears—which instantly connects Diane with Rita Hayworth's story. Diane chose this glamorou
Ending with Club Silencio
The movie concludes in Club Silencio (by the way, this will help us understand Lynch's seventh clue), the very place where Diane previously had the realization she was living in a false reality. Fittingly, the woman's hair at Club Silencio is colored blue—the color of the dream-world key that led Diane back to reality, and the color of the hitman's key that signaled Camilla's death. Thus, blue becomes symbolic for confronting yourself and your decisions.
The first time we saw the blue-haired woman, she was watching the performance at Club Silencio from a balcony seat. Betty and Rita attend a show at Club Silencio where people pretend to sing and play instruments. But, as the presenter states, it's all "an illusion." He says, "no hay banda," which translates to "there is no band." This brings up many questions about Diane's life, regarding both her pursuit of the Hollywood Dream and her jealousy of Camilla. Can something be beautiful, be artful, be profound…if it's a lie? An illusion? You have to eventually confront reality, to evaluate yourself and the choices you've made.
Naturally, then, we see Betty go through a wave of states and emotions during the performance. At first she's confused by the cryptic presentation. Then she convulses when the man signals the sound of thunder. Then she's in awe and weeps at the woman's beautiful singing voice. And finally, in the end, she's devastated to learn that the woman's voice isn't real—this also happens to be the moment she finds the blue box in her purse.
Let's remember how Betty got to Club Silencio in the first place. Rita wakes up in the middle of the night, seemingly possessed, whispering things like "silencio" and "no hay banda." These are words that will be repeated at Club Silencio. This is Diane's subconscious breaking through the dream, driving Betty towards Club Silencio where she will find the blue box.
At the club, Rita wears a blonde wig that is strikingly similar to Diane's hair. In the dream world, Rita represents a second chance for Camilla to live on. But the blonde wig is once again Diane's subconscious at work, as Rita is nothing more than a projection of Diane's guilt for hiring the hitman. When Rita drives Betty to Club Silencio, it's really Diane driving herself to Club Silencio. Diane must eventually confront what she's done, just as she must confront the falseness of the Hollywood Dream.
This ties back to the wave of emotions we see from Betty during the performance. The confusion, the convulsions, the weeping—it all represents what is "felt, realized, and gathered" at Club Silencio.
Everything happening to Diane in these moments makes me think of Lynch's interview with Chris Rodley:
This particular girl—Diane—sees things she wants, but she just can't get them. It's all there—the party—but she's not invited. And it gets to her. You could call it fate—if it doesn't smile on you, there's nothing you can do. You can have the greatest talent and the greatest ideas, but if that door doesn't open, you're fresh out of luck. It takes so many ingredients and the door opening to finally make it. There are jokes about how in L.A. everyone is writing a script and everyone has got a résumé and a photo. So there's a yearning to get the chance to express yourself—a sort of creativity in the air. Everyone is willing to go for broke and take a chance. It's a modern town in that way. It's like you want to go to Las Vegas and turn that one dollar into a million dollars.
The second time we see the blue-haired woman is here at the very end of the movie. Knowing how Lynch feels about Hollywood from that Rodley interview, the blue-haired woman whispering "Silencio" could be the director's way of saying, "We, as a society, are collectively silent about these terrible things that keep happening to young, aspiring filmmakers and actors. We brush these sad stories under the rug and continue to worship Hollywood."
No, Diane's dream isn't reality—but she can keep telling herself that it is. In that light, the ending becomes a representation of Hollywood's great lie. This dream the town inspires continues to persist and persist and fill people with hope…when in reality, this false reality becomes the downfall of so many. Yet those people will continue to chase the lie—and continue to be burned by Hollywood's sick, cyclical system.
What are your thoughts?
Is there more to the ending that you think should be part of the Colossus Movie Guide for Mulholland Drive? Leave your thoughts below and we'll consider adding them.